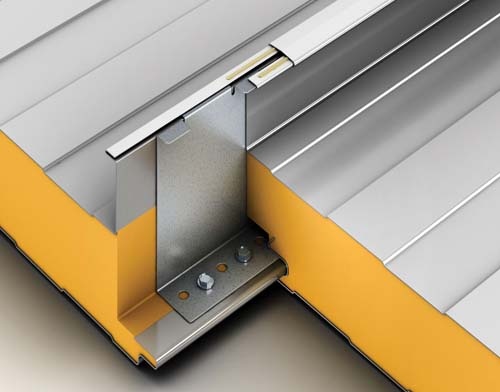 Green Span Profiles and its RidgeLine metal roofing panels. The product recently received UL 580 Class 90 Approval for uplift during high velocity winds, and it received Florida Approval for installation over open framing, demonstrating compliance with ASTM E 1592, ATM E84 and FM 4471.
That seems par for the course with RidgeLine, which thanks to its slide-together, single-component installation, forms a weathertight seal against all forms of weather. Each panel is more than two inches thick – the top end of the product measures three times that number – and the exterior and interior metal panels are available in 26-, 24- and 22-gauge Galvalume steel. The core is a continuously poured-in-place, polyisocyanurate insulating foam, and the exterior finish is standard gloss PVDF coating. Not much is going to make its way through this layer of roofing, even when installed horizontally.
Not surprisingly, the panels are highly fire resistant, carrying a three-hour safety rating.
RidgeLine panels, which are also made of recycled content, can be used on slopes as low as 0.5:12 and are available in standard lengths measuring 12 to 53 feet. Custom lengths are available on demand.