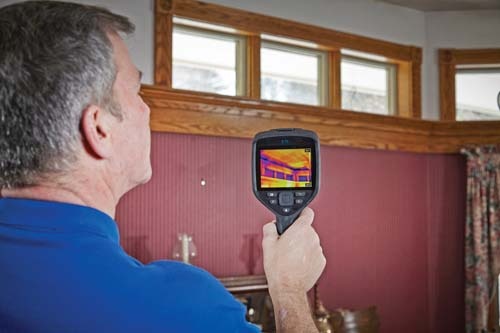 When it comes to insulation, weather sealing and leak prevention, where are the real problem areas? Flir Systems' redesigned Exx Series of thermal imaging cameras helps building professionals find out faster and easier than ever.
Improvements include a brighter, larger LCD touchscreen, a simplified user interface, a true 42-degree field of view, interchangeable lenses, laser-assisted autofocus modes and area measurement functionality, increased thermal detector resolutions of up to 464 by 348 pixels, and temperature measurement capability of up to 1,500 degrees Celsius.
On top of that, the imager's new 5-megapixel camera, combined with super-resolution UltraMax process, improves effective resolution by four times—up to 645,888 pixels—and thermal sensitivity by up to 50 percent.
If problems are found, the Exx cameras feature built-in voice annotation and customizable work folders for easier image organizing. The units are Wi-Fi enabled for connection to mobile devices. And the cameras offer streamlined reporting through the Flir Tools+ tool, which simplifies inspection paperwork and insurance claims.