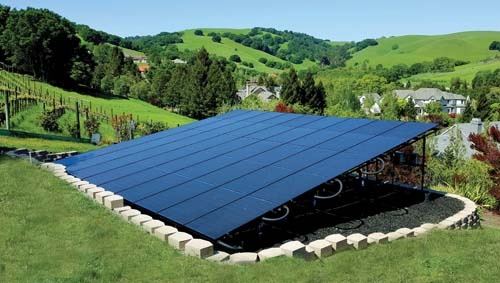 Homeowners with solar energy systems and swimming pools often face a tough choice during non-winter months: Cool off the home or heat the pool? The typical rooftop photovoltaic system can't do both. FAFCO Inc.'s CoolPV solar energy product can pull off both feats with power to spare.
The traditional PV panel becomes less-efficient as the day gets hotter. CoolPV uses a water line from the swimming pool to keep the panel's temperature down, which can make the unit up to four times more effective in generating energy. Meanwhile, the water used for cooling is warmed by the panel, and goes back to the pool. The actual cost of heating the pool becomes minimal.
In addition to cutting a household energy bill by up to 50 percent, CoolPV can add to the home's resale value. It has a streamlined, low-profile design, so it's not an eyesore. The product also qualifies for various state and federal tax credits, and excess power generated can be sold back to utilities. An owner could recoup installation costs within a few years. And, the home swimming season might even be a few weeks longer.