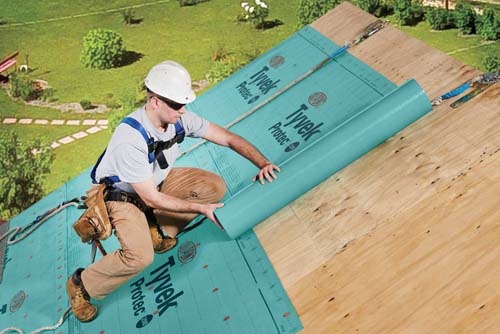 Tyvek Protec 200 is the "best in class" of DuPont's new underlayment product line, which is designed as a secondary moisture barrier during roof construction. Its 50-year warranty makes it a good companion to today's long-lasting composite and tile roofing products. It's suitable for any roof type, from asphalt shingle to slate, and it is recyclable per local guidelines.
Protec has a grid-like pattern and surface texturing that makes it walkable even in wet conditions. That doesn't mean you can skip the safety harness, but it's a "step up" from many other products. It lays flat and effectively is wrinkle free upon placement. Protec is designed for 2:12 and steeper roof applications, and comes in 48-inch by 250-foot lightweight rolls. Protec 200 also has a 6-month tolerance to UV exposure.
The product meets standards for ASTM D226 Types I and II, ICC-ES AC188, and Class A fire resistance per ASTM E108. It is also available in slightly lighter-strength 120 and 160 versions.