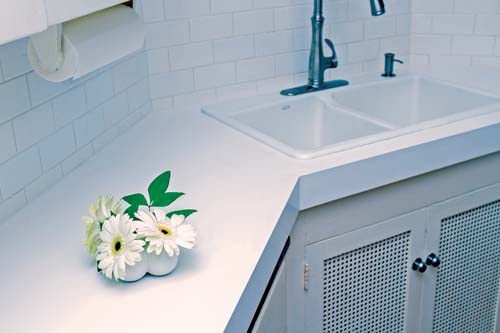 Eventually, every homeowner wants to update their kitchen—especially the countertops, which tend to take a lot of abuse from cooking, spills, food preparation, hot pans and other everyday activities. But not everyone wants to deal with being banished from their kitchen for days, while the old counters are ripped out and replaced.
Enter Caesarstone and its TRANSFORM countertop, the company's first 13-millimeter quartz overlay surface. Instead of enduring demolition, all homeowners need is to wait for installers to set the custom-fit product over the existing counter. It's less expensive than full-on counter replacement. And there's the little matter of keeping all that wood and tile debris out of the landfill.
TRANSFORM retains Caesarstone's low-maintenance, scratch, stain and heat resistant qualities (as well as its lifetime warranty), and it's being offered in several new colors for modern kitchens. The product also works well for bathroom vanities.