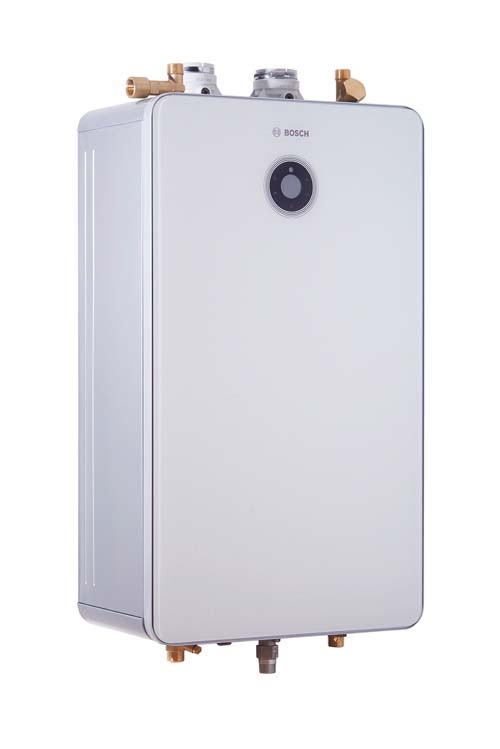 Tankless, natural gas-powered water heaters have been popular in Europe for more than two decades. Comparatively, their popularity has only recently begun to take off in the U.S. Bosch Thermotechnology Corp. is hoping to continue that upswing with its Greentherm 9000 Series of highly efficient, plug-and-play tankless condensing gas water heaters.
The lineup of nine Greentherm 9000 water heaters—six of which are debuting this spring—have an industry-high thermal efficiency of 100 percent, and an energy factor of 0.99. They do not require a dedicated return line, which makes for faster hot water at the tap, less wasted water waste and an estimated savings of 11,000 gallons of water annually per household.
Meanwhile, installers will appreciate its easy-install design, which includes top-mounted water connections, an OptiFlow combustion management system that automatically adjusts for various installation conditions, and a built-in recirculation pump. It easily integrates with solar energy systems.
Also, the water heater's space-saving design means the unit won't dominate what is usually an already-packed garage or laundry area. It can be controlled remotely via Wi-Fi to help cut energy costs. And the machines are capable of self-diagnostics for quick troubleshooting.