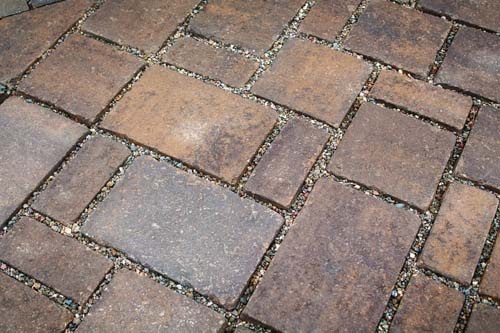 These permeable pavers depend on the right gaps and proper aggregate to maintain optimal water flow.
The interlocking concrete pieces are installed with layers of varying-sized stone or aggregate underneath. This enables the paving to mimic the way natural land absorbs water—which means that when it rains, instead of puddles or possible slick surfaces to slip on, all that moisture seeps back into the ground or to the nearest storm drain.
Belgard's Aqualine Permeable Pavers are part of an imperial 4.5-inch or 6-inch dimensional increment series and have a raster or footprint that is exactly as specified, allowing all pieces in each series to fit together as intended. They also combine structural joints and infiltrating voids to optimize system performance. Pavers also contribute to LEED points, and they exceed standards specified in ASTM C936.
The pavers also help reduce erosion from dry or dead grass, prevent mosquitos that usually breed in standing water, and last longer than conventional paved surfaces.
They're not invulnerable. The paver gaps need to be swept and cleaned at least a couple times per year to keep water management abilities intact.