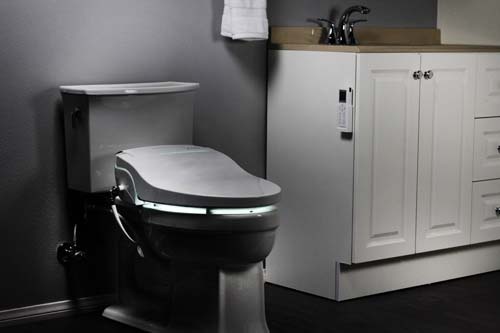 Bidets are becoming a popular water-saving tool in American households (as evidenced by the dozens of styles on display at the NAHB International Builders' Show in January). We tested The Alpha Bidet JX add-on bidet seat, and found it easy to install, effective and an efficient water saver.
The JX's seat and its associated electronics attach directly where the old toilet seat went. There are two versions—the EW (elongated) and the RW (round)—which figuratively and literally cover most toilets on the market. Keep in mind, however, that not all toilets have the same shelf distance between tank and bowl. (A perfect fit for this unit was an American Standard Champion 4 Max.) Homeowners will need to make sure there is a standard 15-amp GFCI circuit available.
The unit utilizes a tankless water heater to warm things up during use, which can make it feel like a luxury spa treatment (a key to broader acceptance by squeamish Americans). There are "auto" and "super" power saving modes, the latter of which reduces water and seat temperatures to room temp when it's dark, and heats things up when the lights come on. There's also a wireless remote control with a wall mount, for easy starts and stops. And, the JX features an LED nightlight to help users find their way in the middle of the night without flipping a light switch.