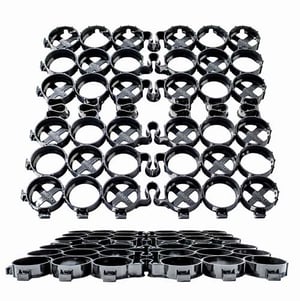 A 100 percent permeable, natural paving alternative to concrete and asphalt, TRUEGRID is a LEGO-like system of permeable pavers made from 100 percent post-consumer recycled plastic and filled with gravel or grass for a natural aesthetic. The Eco residential paver can be built into driveways, walkways, shed flooring, patios, pool skirts, grass pavement and more. In all cases, rainwater absorption is improved, CO2 emissions from cement manufacture are eliminated, and the climate warming brought on by concrete and asphalt paving are reduced.
TRUEGRID Eco is strong enough to drive on, and Eco pavers may be quickly and simply installed. For example, for large projects, Eco arrives pre-assembled in 4-foot-by-4-foot sheets of four grids each. These 16-square-foot sections weigh only 11 pounds and may be easily handled by one person. The grids can be locked together with a mere footstep and can be reconfigured as needed. The grids can also be cut with a handheld circular saw for insertion around trees, shrubs or other irregularly shaped objects.
The product is non-toxic, harmless to plants, animals and microorganisms. It contains inert material and is groundwater neutral.