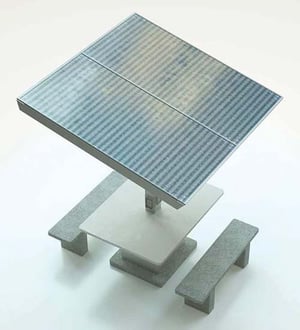 Busy people often need last-minute charging for their electric devices. In lieu of searching for a wall outlet in a building, the new Velocity outdoor solar charging station from Sunbolt enables users to sit comfortably outside while rapidly recharging any of their devices. Need a charge at night? No problem. A brilliant, non-glare LED lighting system illuminates the table for nighttime use.
The Velocity is a lower-cost, sit-down, outdoor workstation with a structural steel frame, a concrete base, a marine-grade polymer tabletop, and a 660-watt DC solar array.
The off-grid solar power design delivers dependable year-round charging power, even in the worst-case weather conditions, and will charge 75-100 mobile devices a day in typical usage, with two 120-volt and four USB outlets.
In addition, the optimized system design includes high-quality UL-listed solar power components for safe and trouble-free performance, and the ADA-compliant design comfortably seats four to eight people.
The Velocity is built as a fully engineered commercial-grade structure, hardened for public use and low maintenance. It has a minimum service life of 30 years.