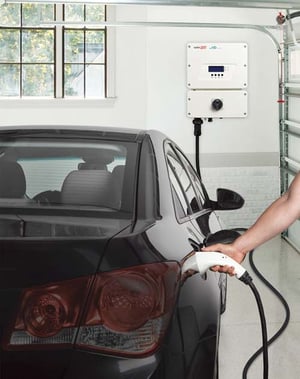 The EV-Charging Single-Phase Inverter from SolarEdge Technologies advances development of holistic smart energy homes. Installers and builders can cost- and time-effectively design and build homes that embrace smart energy production and consumption. For example, the inverter reduces the workload and costs of separately installing two standalone products—an electric vehicle (EV) charger and solar inverter. This saves space on the main distribution panel and eliminates possible panel upgrades.
Meanwhile, the inverter allows consumers to further decrease their carbon footprint by allowing EV drivers to charge their cars from renewable sources. SolarEdge has also succeeded in increasing charging speeds compared to other comparable EV chargers on the market. Further improving the EV-charging experience, the inverter features an easily replaceable cable and connector, one of the most common failure points of EV chargers.
SolarEdge provides its inverter with an EV-ready option so that is future-ready for new EV purchases or replacement. SolarEdge's monitoring app also allows for remote charging or prescheduling. In the future, the app will include features such as demand response readiness and weather forecasts.