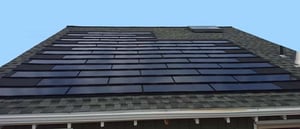 RGS Energy has introduced a roofing tile product that combines the performance and protection of a conventional asphalt roof with an integrated photovoltaic system that powers a home. The Powerhouse 3.0 Solar Shingle also helps homeowners who want to make the switch to solar but aren't willing to accept the complexity and sub-optimal aesthetics currently offered by bulky, rack-mounted panel systems.
Powerhouse 3.0 functions differently from other products available to homeowners with asphalt rooftops, which represent approximately 85 percent of U.S. homes. It operates as a roof and solar energy generator, and is installed directly onto the roof deck along with standard asphalt roofing shingles. A huge selling point is that they look like they actually belong on a home. The solar shingles are designed to blend in perfectly with asphalt roofs and include a low profile making the solar array less conspicuous as compared to traditional solar panels.
For builders, the new product works with traditional roofing products, making installation simple and efficient. The shingles are manufactured using traditional silicon solar cells instead of copper indium gallium selenide cells, which are more expensive to manufacture than traditional silicon solar cells used in other products. This makes Powerhouse 3.0 a more cost-competitive and bigger financial benefit to homebuilders.