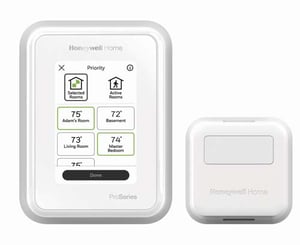 Resideo Technologies' Honeywell Home T10 Pro smart thermostat incorporates wireless RedLINK sensors to monitor temperature, humidity and motion, helping to balance hot and cold spots in a home. In addition, the T10 Pro carries a range of up to 200 feet, helping to provide whole-home comfort and faster installation by a contract. The thermostat can be connected to up to 20 smart room sensors.
Homeowners can focus comfort on the living areas during the day and bedrooms at night. For example, they can set a preferred temperature for a room or group of rooms and prioritize multiple rooms at different times of day, quickly switch which room is prioritized or use a voice assistant to change the set schedule. The thermostat also receives an alert if a room reaches a certain temperature, such as a nursery getting too cold at night.
Resideo enhanced the full-color touch display on the thermostat, allowing for full on-device setup and Wi-Fi connection using intuitive gesture controls, such as tap and swipe up or down. The thermostat also uses the same UWP standard wall plate as the remainder of Honeywell Home T-Series thermostats to reduce training requirements and deliver a consistent installation experience.