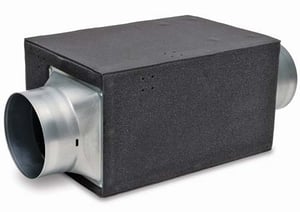 Panasonic's WhisperFresh Select supply fan offers builders, remodelers and homeowners a filtered fresh air solution for tightly built, energy-efficient homes. The fan can operate as a standalone fresh air supply solution or can be paired with Panasonic's multi-speed exhaust fans for a whole-house indoor air quality (IAQ) solution, bringing fresh, filtered air from outside into the home, and exhausting stale, moist, polluted air out of the home to create balanced ventilation.
Equipped with the built-in Pick-A-Flow Airflow Selector, the WhisperFresh Select enables the user to customize the ventilation fan for nine different CFM settings (50-60-70-80-90-100-110-130-150), ensuring it meets required airflow settings with the turn of a dial. The ability to choose the required CFM level gives builders and contractors the flexibility and assurance that one fan will satisfy a range of ventilation design requirements that meet code and perform as promised. The WhisperFresh Select can be used to comply with many green building standards, including LEED, ASHRAE 62.2 and California's Title 24.
Additionally, the fan can integrate with central HVAC and enhances ductless systems for maximum IAQ benefit. Whisper Fresh Select was recognized as an ENERGY STAR Most Efficient product for 2018.