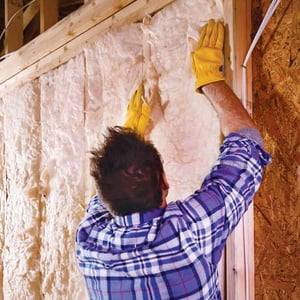 Owens Corning's Pure Safety high-performance insulation is the first to be certified "Asthma and Allergy Friendly" by the Asthma and Allergy Foundation of America. This is largely due to its 65 percent diminished dust output, plus mold and mildew resistance. The product is also UL Environment Greenguard Gold Certified for its low chemical emissions.
Pure Safety is an all-purpose insulation suitable for interior and exterior walls, floors and attics. In installs easily, due to single, 93-inch-long batts that fill most wall cavities in one step. The product cuts easily and is not subject to crumbling or slumping. It's also no friend to fire, being Class A rated, achieving the lowest Flame Spread and Smoke Development ratings possible—0 and 0—when tested in accordance to ASTM E84.
The product also reduces noise by up to 50 percent, helping to keep distracting outside noise out and reduce inside noise from traveling room-to-room. Although the standard 15- by 93- by 3.5-inch batt carries and R-value of 15, Pure Safety is also available in sizes up to 24 by 48 by 10.5 inches, which has an R-38 rating.