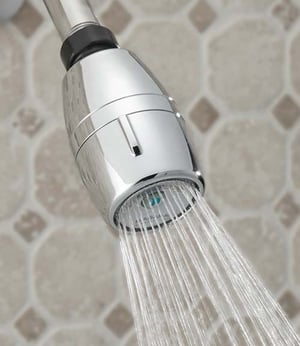 Call it "conservation with a twist." Niagara Conservation's ultra-efficient Bi-Max Showerhead provides users with a luxurious shower while using next to nothing in water. The product features two adjustable spray settings for optimal task performance and maximum water savings. Bi-Max's even, vacillating spray—achieved through 1.0 gallon-per-minute (GPM) or 1.5 gpm settings—matches that of other showerheads using twice as much water.
The secret lies in the company's EQUIFORCE technology, a pressure-compensating design that provides constant water output regardless of water pressure. At low pressure, water is allowed to flow through three holes in the center of the compensator. As water pressure increases, the force presses down on the compensator, causing it to flex and seal off, directing water to only flow through the center holes. The shape and density of the rubber help maintain a level flow rate as the pressure increases.
Independent reviews praise the showerhead's efficiency, both in keeping a shower feeling like one even with ultra-low flow, while also saving water and lowering monthly bills—especially for large households or ones with people who like to take their time cleaning up.