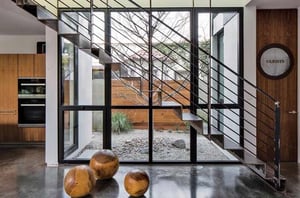 mnmMOD's self-named panelized building system offers a way to construct a home without wood, while ensuring good indoor air quality. The technological brainchild of Santa Monica-based architectural design studio Minarc, mnmMOD offers the residential building industry an affordable and fully customizable alternative to traditional building materials and techniques.
Consisting of a blend of recycled steel and EPS insulation, mnmMOD building panels are 100 percent wood-free and are 40 percent more energy efficient than traditional housing components. They contain no dyes or formaldehydes, and emit no volatile organic compounds (VOCs). The panels also prevent mold and termites from destroying a building and can withstand fire—a particularly attractive feature for residents in high fire-risk areas.
mnmMOD panels are customized to specific building plans and can be delivered directly to construction sites across the United States. Installation is simple—all that's needed is a screw gun—meaning faster construction, lower labor costs and almost zero waste. The highly energy-efficient panels also exceed requirements of Title 24. And, the product is completely recyclable when it reaches end of life—whenever that happens to be.