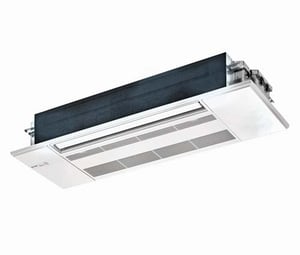 The MLZ One-Way Ceiling Cassette is an indoor unit designed to help homeowners achieve comfort and optimize energy usage through zoning. With a sleek, narrow-body design that fits between standard 16-inch joists, the MLZ enables easy creation of zones for comfort and usage needs, providing energy savings for existing homes and new construction.
Utilizing an inverter-driven compressor, the MLZ provides the space with the exact amount of energy to cool or heat an area without turning the system on and off. This advancement has transformed the HVAC industry by providing temperature regulation at a fraction of the energy normally required. This operations method is up to 40 percent more efficient than traditional cooling and heating systems.
In addition, Mitsubishi Electric Trane's system parts are made from a significant percentage of recyclable materials, which help to reduce the waste in landfills. The MLZ also features long-life washable filters that have advanced filtration, providing occupants with improved indoor air quality (IAQ). The efficient operation and sustainable materials of the MLZ make the unit a standout in terms of green residential building products.
The unit also syncs to Mitsubishi's kumo cloud app and web service, which intelligently manages the MLZ to customize airflow direction and temperature.