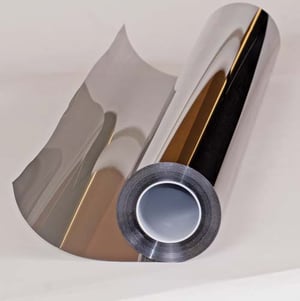 Architectural window film is known for commercial applications, but it also has its place among in the residential housing market. Madico's line of window films is an environmental gift: The film blocks 99 percent of the sun's ultraviolet rays while providing added benefits such as solar control, fade protection, improved aesthetics, and safety and security. The Solar Grey variety provides privacy with a neutral tone that upgrades any decor.
Madico window films are composed of thin layers of metallized and dyed, optically clear polyester laminated with special adhesives and protected by a durable, scratch-resistant coating. The film is generally installed to the inside of windows and doors, offering immediate protection from the harmful effects of the sun. Solar Grey is also available as an exterior application and provides a uniform outside appearance for buildings.
Architectural film is a major energy saver. Applying Solar Grey will reduce electric consumption by thousands of kilowatt hours and cutting cooling costs by thousands of dollars each year. Savings are increased by the product's ability to reduce glare and reject heat. The film also helps hold glass together in case of accidents or severe weather, increasing homeowner safety.