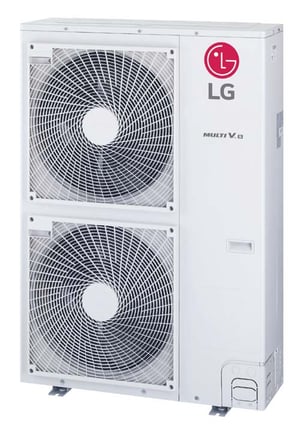 As the U.S. market's first single-phase variable refrigerant flow (VRF) five-ton heat recovery system, LG's Multi V S is a compact heat recovery unit designed to provide excellent energy efficiency and the versatility of simultaneous heating and cooling up to 12 zones. With a smaller capacity (60,000 Btu/h cooling; 64,000 Btu/h heating), compact design and single-phase power, the Multi V S helps builders increase energy efficiency and lower energy costs without sacrificing comfort. Multi V S also features LG's high-efficiency inverter scroll compressor, allowing the unit to provide cooling capabilities in ambient temperatures up to 122 °F and heating operation down to -13 °F.
The Multi V S is a single refrigerant circuit that connects many indoor units to one outdoor unit requiring only single-phase power while providing exceptional, personalized comfort through simultaneous heating and cooling. Multi V S efficiently heats and cools any space, providing improved humidity control, individual set points per indoor unit, and a very quiet comfort experience in addition to energy efficiency and reliability. The system is also easy to install and maintain, and has low lifecycle cost compared to other systems on the market today.
Multi V S also features a new biomimetic fan design that draws from nature's design and enables the unit to operate more efficiently and increase airflow while reducing the perceived noise level by approximately 20 percent.