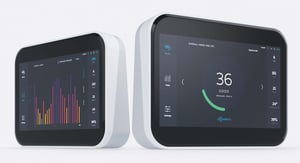 The ability to access real-time information is integral to ensuring healthy indoor air quality. Kaiterra's Sensedge enables users such as homeowners, architects, owners, developers and property managers to optimize air quality control and healthy building design to ensure a comfortable and healthy environment for occupants.
Sensedge offers a complete indoor air quality monitor for particulate matter (PM2.5), total volatile organic compounds (TVOCs), carbon dioxide, temperature and humidity, and includes a touchscreen display. Users can access historical data, helping to inform building design, construction and operations.
Unlike most air quality monitors on the market that test only two or three levels of pollutant concentration and use only a handful of these data points in the calibration process, Sensedge uses more than 6,000 individual measurements.
The Sensedge is also easily installed in any new or existing interior, and maintenance is uncomplicated due to replaceable sensors and a built-in notification system—with no calibration necessary. Sensors may also be customized for specific projects.