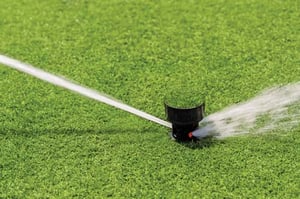 Hunter Industries has released a product designed specifically for the property owner with a massive amount of landscape to water. The I-80 gear-driven motor features a wide range of highly efficient, dual trajectory, wind-fighting nozzles for highly efficient performance in a range of applications.
The I-80 provides total top serviceability via its integrated, surface-mounted snap-ring. This no-dig solution makes maintenance quick and easy, and is ideal for professional and recreational venues alike. The I-80 is built with a robust, dirt-tolerant gear drive that offers the highest torque output of any rotor in the commercial sphere, and extends a radius range up to 97 feet.
In addition, the I-80 offers an advanced ProTech Turf Cup System, in which living or synthetic turf is retained in a cup mounted to the top of the rotor and installed flush to the surrounding turf. The special retaining rings in the turf cup add surface area for increased root adhesion, which helps keep turf securely in place.
The no-dig ProTech TC is also totally top serviceable and features no-tool quick-release removal of the turf cup, arc adjustments without riser removal, and a fully contained riser assembly that stays together when removed from the sprinkler's body.