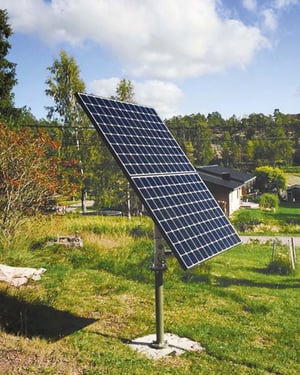 In order to get maximum output from the sun, solar panels should always be directed straight towards the sun—not only at noon, but whenever photovoltaic energy is needed. The Heliomotion Home Solar Power Plant constantly tracks the sun from sunrise until sunset, a concept that resembles that of large utility solar stations. It provides private homes with an extremely efficient, affordable and easy way to generate their own renewable energy.
Heliomotion Home Solar Power Plant finds the sun's position using GPS. The tracker rotates 180 degrees along the horizon and 20 to 70 degrees vertically. Its dual-axis tracking performs with a single motor, leading to lower energy consumption. The product is available in a solar-paneled model (PV-2M), with two 300-watt panels that generate 700 to 1,350 kilowatt hours per year, and a panel-free version (PV-2) for those who want to use their own solar panels.
The Home Solar Power Plant is designed to be easily assembled and installed in less than a day by an installer or the buyer, with help from an experienced electrician. The product is delivered as a complete installation kit on one pallet, including a detailed, illustrated installation manual.