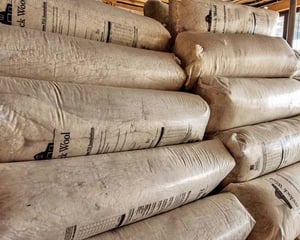 Anyone searching for an alternative to traditional fiberglass insulation has an all-natural option: "true" wool. Havelock's Loose Fill Wool Insulation offers a barrier against moisture and mold, provides thermal control, sound insulation and fire protection, and makes for an all-natural air filtration tool. It has no synthetic mix or chemical binders, and does not add pollutants to indoor air..
Havelock's product consists of knobs or balls that more completely fill a space to avoid slumping, and enable it to maintain its original R-value. R-values can range from 7 to 100, depending on the selected thickness. Meanwhile, the product absorbs and desorbs relative to 65 percent humidity in term of moisture management.
As a keratin, wool does not support mold growth. It also improves air quality through passive filtration, absorbing volatile organic compounds (VOCs), nitrogen oxide (NO2) and sulfur dioxide (SO2). Loose Fill Wool Insulation can easily be installed by hand or machine in open areas, enclosed walls, ceilings and floors, and should last the life of the structure.