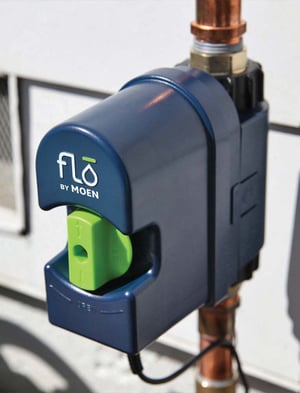 Each year an estimated 1 trillion gallons of water are lost due to leaks—enough water for Los Angeles, Miami and Chicago for an entire year. That wasted H2O also results in more than $9 billion in water damage claims reported annually by U.S. insurance agencies. Enter Flo Technologies with the Flo by Moen water monitoring and leak protection system, an always-on detector of leaks or forthcoming problems.
Installed inline, Flo monitors all water going into the home. The device has three sensors that actively monitor water flow, pressure and temperature. It's capable of discovering a leak of any size—from small drips to burst pipes—for which Flo can turn off the water supply to limit water waste and damage to the home. About 60 percent of users discover a leak that they did not know their home had, leading to about 2.5 million gallons of water saved during Flo by Moen's first year on the market.
Meanwhile, alerts are sent to the owner's phone so they can take control of their home's water wherever they are. Users may also set water consumption goals, monitor daily usage, and turn water on and off remotely. Flo by Moen currently integrates with Amazon Alexa, Google Assistant and IFTTT.