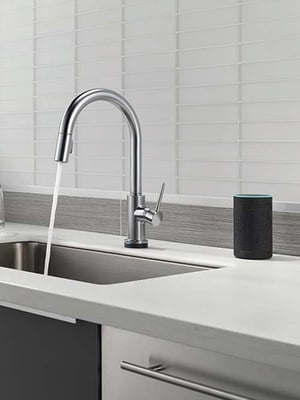 Delta Touch2O Technology faucets combine finger precision with water conservation. With Touch2O, a simple tap anywhere on the spout or handle with a hand, wrist or forearm will start and stop the flow of water at the temperature where the faucet handle is set. The product also includes an automatic water flow shutoff after several minutes to save water. And, an integrated TempSense LED light shows water temperature, helping to prevent burns.
The product's sophisticated technology can distinguish the difference between a tap and grasp by measuring the duration of the contact with the faucet, helping to avoid unintentional turning on or off of the unit. The new faucet is also capable of voice activation through Amazon Alexa to turn faucets on and off, pour specific amounts and even warm up the water.
The Touch2O faucet operates on six AA or six C batteries but may also be powered with an optional A/C adapter.