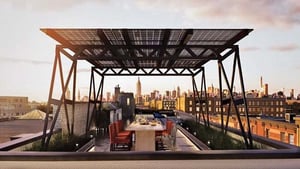 When thinking of solar panels, many consumers worry that the product will detract from a home's appearance. The Solar Canopy from Brooklyn Solar Company gives homeowners a way to go solar in a style that's easy on the eyes. The sleek solar panels sit atop an aluminum frame that can be raised up to nine feet and mounted on rooftops or set on the ground—eliminating the panels from view, while also providing a carport or shaded living.
The Solar Canopy allows installation of a photovoltaic system that is usually not subject to the same regulations faced by most solar power vendors. It also offers an easier way to bring green energy to residences with flat roofs, particularly in large cities. Each canopy typically features 18 to 24 solar panels, and each panel generates about 360 watts of energy. The homeowner saves about $1,500 in electric costs annually.
And, the entire unit can be installed in 1 to 2 days.
In addition to rooftops, the unit can be installed to create a carport or yard pergola. They come in a variety of colors to further blend into the background. And, state and federal incentives can cut install costs by up to 75 percent—making a product like this a bright idea indeed.