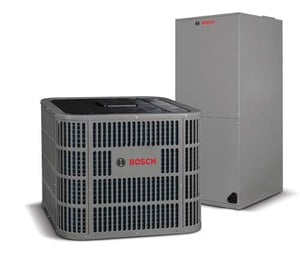 The Bosch Inverter Ducted Split (IDS) 2.0 is Bosch's premium air-source heat pump. With up to 20.5 seasonal energy efficiency ratio (SEER), this heat pump has a full Energy Star-compliant product range. The accompanying air handler includes an x13 ECM blower with two-stage fan control for enhanced dehumidification, and an all-aluminum coil for superior corrosion resistance.
With 10.5 heating seasonal performance factor (HSPF) and heating operation down to four degrees below zero, this heat pump offers highly efficient operation, even in cold-climate applications. The Bosch IDS 2.0 outdoor unit can integrate with Bosch's 96 percent gas furnace and cased coils for an exceptionally efficient dual heating and cooling system.
Other key selling points include its ultra-quiet operating noise—thanks to its foil-faced air handler cabinet insulation, silent blade technology, sound isolating mounts and outdoor condensing section placement—and its compatibility with smart thermostats that can help it learn a homeowner's preferences and adjust temperatures accordingly (and yes, the unit is compatible with any traditional thermostats). There's also the smooth, gradual upgrade to a preferred environment—an action that prevents the wear-and-tear-inducing spikes in energy use that are common with other units.