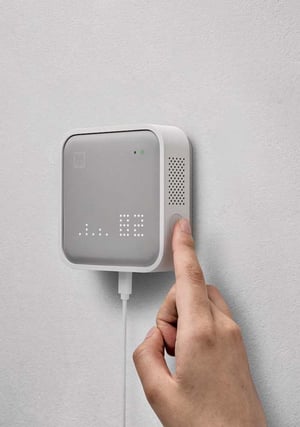 An advanced method of tracking indoor air quality has expanded its reach. Awair's Omni features enterprise-grade sensors that track the key factors of air quality—temperature, humidity, CO2, volatile organic compounds, chemicals and fine dust—and provides actionable insights that allow homeowners and multifamily building owners to create healthy, productive living and working environments.
Omni features a touch-sensitive LED display, can be mounted on a wall or stand, and includes a battery back-up to prevent loss of data. The dashboard provides analytics of a building's overall air quality as well as that of individual rooms. A score between 0 and 100—worst to best—is then generated that identifies the quality of the air. Awair also provides personalized recommendations to improve the air's health and safety.
Data history can be easily accessed and exported, which is especially helpful for building owners aspiring to achieve LEED, WELL or RESET certification. Customized alerts and notifications can also be set up for when building conditions fall out of the desired air quality range.
Awair also works with other devices such as Nest, Alexa and Google Home, to automatically keep air clean and healthy.