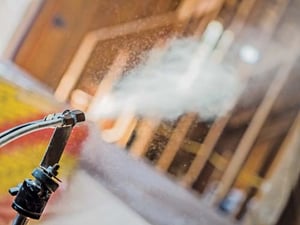 AeroBarrier is the first envelope sealing technology that can be dialed in for specifically targeted results—from basic regulatory standards to the tightest Passive House levels of air exchange. As such, it replaces a complex, multi-stage, multi-product process yielding uncertain results with a simple, highly effective single-step process with guaranteed results.
The interior air sealant can seal all building envelope leaks of up to one-half inch in diameter. Using automated sprayers, AeroBarrier passes through gaps in the building envelope and accumulates on the edges of the openings. In less than three hours the sealant fills all the gaps. The sealant itself dries in about 30 minutes, allowing work to resume after a short break.
Meanwhile, the computer-controlled process allows builders to monitor actual level of tightness as the sealing process is taking place. At the end of the process, a final report provides details of before and after results—no retesting and measuring required.
AeroBarrier is based on a waterborne acrylic that is Greenguard Gold Certified and has been tested according to various ASTM standards and NFPA 285 for fire spread, smoke production, adhesion, antifungal properties, tensile strength and more. The sealant is also low in volatile organic compounds (VOCs) and has no offgassing.