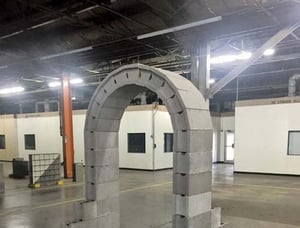 Although concrete is the most widely used construction in the world, it's not always the most efficient due to extended curing and cleanup times. Enter 3B Construction Solutions' Bolt-A-Blok, a unitized, post-tensioned, concrete and steel structural system that can take the place of concrete and be completed a far shorter amount of time.
Bolt-A-Blok is a precision-cast item, comparable in strength to poured-in-place or pre-cast concrete, that bolts together like LEGO bricks and does not require any mortar, water or electricity to install. As a result, a builder can set as many courses in one day as desired, regardless of weather. Each Blok has a compressive strength rating of 4,000 PSI, and has been fire rated, and tested and rated for hurricane-force winds and impacts.
Because of their high mass, the blocks are thermally efficient and help keep a home cool in the summer and warm in the winter. The cores in the middle of the block can be filled with anything from straw to pea gravel to spray-foam insulation to further increase the thermal capabilities of the block wall. And, all materials can be taken apart and reused for other projects—just like real LEGOs—lessening the need for new construction material, and reducing that construction's impact on the environment.