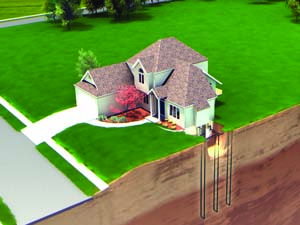 BY EXTRACTING AND HARNESSING
latent underground heat with a fraction of the energy required to condition a typical home, geothermal technology is a highly sustainable, renewable energy strategy. But ironically, geothermal systems have captured less than 2 percent of the HVAC market, to date. That's about to change.
"
Geothermal
is a proven and reliable system for homeowners at all ends of the economic spectrum and makes a lot of sense when it comes to green building and energy efficiency at-large," says Titian Burris, residential market development manager for ClimateMaster in Oklahoma City.
A number of factors, including first cost, lack of awareness and available land space, have traditionally inhibited geothermal's growth. Fortunately, tax incentives, utility programs, educational initiatives and technological advances are creating some momentum. The compound annual growth rate for geothermal systems is poised to increase more than 13 percent annually through 2020, assuming that current tax credits are extended, according to a 2013 Navigant Research report. Furthermore, Green Builder's Readers' Choice 2014 survey of several hundred builders nationwide found that close to 28 percent are now installing geothermal in the homes they build; for 15 percent, it's a standard feature.
Currently, the federal government is offering a tax credit of up to 30 percent through 2016, under the Energy Recovery Act of 2009.
Combined with incentives in a number of states, homeowners are typically looking at an ROI of three to four years.
While the technology is viable nationwide, Jay T. Ayers, geothermal and IAQ product manager at Ingersoll Rand in Tyler, Texas, says it's most popular in the Midwest, followed by the Northeast—regions which typically have more available land space. Meanwhile, a booming Southeast construction market is making regions like Tennessee, Kentucky and the Gulf Coast the fastest growing locations for geothermal installations.
Ground Control. Geothermal loops can be installed horizontally or vertically to naturally heat water in the winter or cool water in the summer, thanks to the ground's relatively constant temperature. Image courtesy: WaterFurnace
Read More