Roofing products have improved, but a shingle still can't avoid the limitations of its material nature.
When prospective buyers consider whether they will buy a home, the type of roof it has is not the first thing on their minds. But it should be high on the list—after all, the shingles over their heads prevent leaks into the home, aid in energy-saving efforts, and improve the value of the house.
So yes, a roof is more than just a collection of panels made of wood, stone or asphalt. The style chosen will impact the house—and homeowner's pocket book—for years to come. That's why builders and everyone else involved in that roof need to keep an eye on developments within the marketplace.
Here's a look at the types of roofing on the market, what makes them unique and what's new or improved.
Asphalt: Getting Greener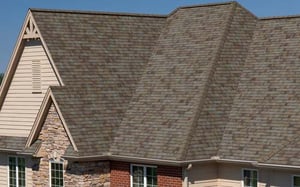 It's not the oldest roofing product and it's certainly not the most exciting item out there. But asphalt shingles—a.k.a. composition shingles—are definitely the most popular. They are the least expensive, the easiest and fastest to install.
The newer fiberglass asphalt shingles also have a top flame spread rating (Class A) and good durability (up to 30 years in proper weather conditions). They come in a wide variety of colors, layers and styles in an effort to make them as close as possible in appearance to their slate and wood counterparts. Some lines even include limited lifetime warranties. GAF's roofing tiles are good examples of all these points.
More than 79 million tons of asphalt materials, including shingles, were recycled in 2017, up from 76 million in 2016, according to the National Asphalt Pavement Association. But, markets for recycled product are still limited.
They're also somewhat limited in their performance in hurricane-prone regions. Studies have found that after as little as 8 years, composition-shingled roofs begin to fail in extreme winds.
On a positive note, composition shingles are increasingly available with reflective surfacing. In this case, the shingle is coated with granules that provide better solar reflectance and lower heat absorbance. Roof temperature, which can hit 150 degrees during summer, can drop by up to 50 degrees. Malarkey Roofing's Ecoasis product takes this path.
The more eye-appealing (and expensive) architectural style, or dimension shingle, has more staying power. This thicker tile is rated for up to 130 mph wind uplift and carries a lifespan of up to 40 years. Unlike the more basic 3-tab variety, architectural shingles are installed in staggered fashion, giving a three-dimensional look that resembles slate or shake shingles. CertainTeed offers several good examples of these.
Roof Tile: Lighter Options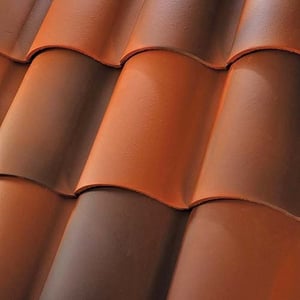 Tile roofs are blessed with a seemingly eternal longevity. Under the right circumstances, the natural stone, clay and concrete varieties can last for 50 to 100 years – possibly longer.
That pretty much means there won't be much technology focused on making the materials last longer. Instead, the emphasis has been on making tiles that are lighter in weight but still durable to occurrences such as seasonal elements, storm-induced damage and even common roof repairs.
Slate, the longest-lasting and most elegant of roofing materials, carries a big price tag—around $20 per square foot, about twice as expensive as wood shake and four times higher priced than asphalt shingles. It poses an even heavier burden on a home's structural integrity, weighing in at about 1,500 pounds per square. Clay shingles are just about as expensive and heavy, depending on the exact formulation. Concrete carries the same price but is only half as heavy.
The industry has developed alternatives. Boral Roofing's line of lightweight tiles look like their heavier cousins, but weigh about one-third as much, making them suitable for reroofing projects. There are also stone-coated steel tiles, such as Decra Roofing System's lineup, which are similar in strength and durability—but at only a fraction the weight of clay.
Lighter weights have a design benefit as well. Products such as Monier's lightweight slate line enable far lower roof pitch than the real thing – about 5 percent less on average. Appearance is another plus. Lightweight tiles now look as good as their heavier brethren, to where it's hard to tell the difference. The combined roofing construction elements can give a homebuilder or remodeler enhanced architectural freedom.
Wood: From Shake to Envirofriendly Fake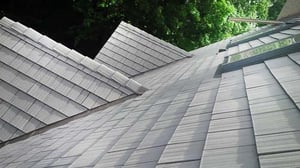 For all of their charm, wood-shingled and shake roofs have a huge disadvantage to other types: Mother Nature. Sun, moisture, insects, plant life and mold will wreck a roof in a fairly short time (roughly 20 years) compared to environmentally heartier surface structures like tile or asphalt shingles. And, many municipalities are banning wood roofs due to fire danger.
That's where faux wood comes in. Composite shingle lines such as those from Enviroshake Inc., DaVinci Roofscapes and Brava Roof Tile replicate the look of naturally weathered shingles and shake without the fragility. All are made almost entirely of recycled material that will not rot, blister, peel or crack, and is mold, fire and insect resistant. The roofing carries a Level 4 impact certification, is LEED Gold certified, and has been high-wind speed tested. The product's lifespan is about 50 years, after which it may be fully recycled again.
Metal roofing also has its wood lookalikes, such as Decra Roofing Systems' Shake XD, EDCO's ArrowLine and Kassel & Irons' KasselWood. All of these replicate hand-split wood shake and heavyweight architectural shingles in an easier-to-install form that is light enough to be installed over existing roofs, keeping them out of the landfill.
There's a cost-cutting element here, too. Composite, metal and wood are in the same ballpark in terms of material costs – around $4 per square foot, depending on geographic location and labor pools. Simpler, faster installation also makes for a lower overall price tag on the builder's end.
Metal: Timeless and Tough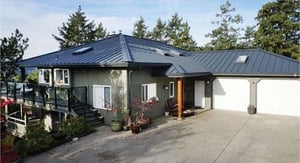 The metal roof is the middle child of the roofing spectrum. At about $9 per square foot to install, it's a bit pricier than asphalt or wood roofs, but only about half as much as tile or slate.
In addition to the low cash outlay for product, a metal roof keeps labor costs down compared to its slate and tile cousins thanks to its easy install of a few days. The roof is more than likely to stay on for 40 to 50 maintenance-free years, meaning fewer visits for repairs.
Once available only in metal sheets, builders can now install the product as interlocking shingles to accommodate many architectural styles. They're also suitable for low-pitched roofs. The shingles' natural reflective ability reduces heat buildup in attics and upstairs rooms; it's not uncommon for CoolRoof-rated systems to cut electric bills by 20 percent to 30 percent during peak AC usage months.
Not surprisingly, the roofing material is generally made from recycled content that can be completely recycled again when no longer needed. A metal roof also lends itself well to rainwater harvesting. Its smooth, clean surface results in fewer particles being flushed off the roof, which leads to less required filtering.
Roofing material choices from manufacturers such as Interlock and Alucom include low-end G-90 galvanized steel in sheets or interlocking steel shingles; corrosion-resistant galvalume steel; stone-coated steel; and alternate, pricier metals like aluminum, copper and zinc. A metal roof system is generally available in any color finish.
TPO: Single-Ply Perfection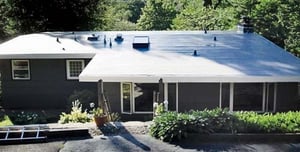 Homes with flat or low-slope roofs are at a disadvantage when it comes to products like slate or wood roofing. Thermoplastic olefin (TPO) membrane is a cost-effective and energy-efficient option. Considered to be a form of cool roof, TPO is Energy Star rated and 100 percent recyclable.
Products such as GAF's EverGuard line are becoming popular among residential owners due to a low price tag—TPO typically costs about $6 per square foot, or about $9,000 for a 1,500-square-foot house. There's also a strong solar reflection ability, and resistance to tears, dirt and bacteria.
On the down side, the warranty isn't great—typically, five years for workmanship—and a lot of questions remain about the product's long-term viability because of its mere two-decade presence on the market. Many manufacturers are still improving their formulations to achieve the greatest durability and longevity at the lowest cost. And, ASTM standards for TPO roofs are still being revised every few years.
Solar: Space-Age Roofing?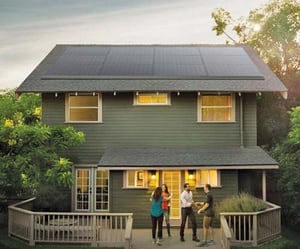 It sounds like science fiction: high-end solar panels that look like roofing shingles. But when the backer is Tesla CEO Elon Musk, the idea doesn't seem so far-fetched. The billionaire is pushing development of four glass-tiled prototypes that he believes will be the next evolution in residential photovoltaic power.
Tesla's product, scheduled to hit the market by the end of 2018, would be indistinguishable from another house without panels and would be capable of powering the entire home—making it instantly net zero, according to the company. Excess energy would be stored in a Powerwall 2 battery pack for night and cloudy days. The glass tiles would be strong enough to walk on and would be custom made to keep a roof from looking just like a neighbor's.
The drawback is the price. Analysts note that construction materials, housing designs—most likely those for high-end custom homes—and specialists needed to install such systems could mean a total price of $70,000 to $100,000 for a 3,000-square-foot roof. A typical homeowner would have to save $55,000 to break even.
For the record, several other companies have attempted or have flat solar products on the market. Dow Chemical failed with the Powerhouse Shingles line it unveiled in 2010. CertainTeed has its Apollo II roof-top energy system, which installs into existing roofing—a step up from Tesla's product, which requires an all-new roof during install. Sunflare's new thin-film solar panels, capable of 9kW output, can be attached with a two-sided specialized roofing tape. Atlanta Energy System's SunSlates Power Roof and SunTegra's Solar Tile Roof Systems are also making their way through an ever-more crowded market.