Today's doors and windows are greener, longer lasting and ever-so-classy.
Doors and windows are two of the easiest and least expensive ways to emphasize environmental friendliness. But they're two of the less obvious. Roofs or solar arrays, which seem to broadcast their green status, get a general "wow!" from homebuyers. But not every homebuyer cracks a mile-wide smile when they hear about the type of vinyl their living room windows are made of.
That's the challenge window and door manufacturers face, and it's one they're taking head on by offering builders cutting-edge products ranging from auto-tinting glass to accessories like germ-controlling door knobs.
Here's a look at the latest type of unique and extra-green windows and doors on the market that should be at the top of every builder's product list.
Windows: In the Clear
Windows have one obvious purpose: They provide a view of what's going on outside the home. To that end, Zola Windows offers its PanoramicView Lift & Slide product with less of one thing, which cuts down on the visuals: the window frame. The fixed glass portion is completely frameless, offering a sleek profile to enhance a minimalist look. The operable sliding sash is only 3.5 inches wide, but it can support a pane of glass of 8 feet by 10 feet.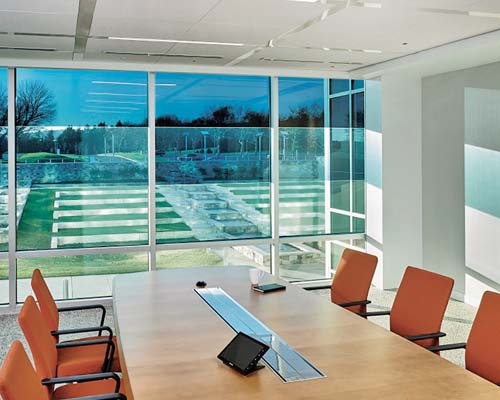 SageGlass electrochromic glass can be adjusted with a smartphone to control the amount of sunlight entering a home or building. Image credit: Saint-Gobain
A quadruple compression seal gives the product an airtightness that's at Passive House status. R-11 triple glazing is standard, but it's also available in R-5 dual and R-15 quad versions. PanoramicView Lift & Slide also lets the sunshine in, but not too much: Visible light transmittance is at 71 percent, placing it in the top one-third of all treated windows.
Speaking of light: A survey by Ipsos Public Affairs reveals that 94 percent of participants prefer a home to have abundant natural light. That's where Saint-Gobain excels. The company's SageGlass electrochromic glass can be adjusted with a smartphone to control the amount of sunlight entering a home or building. A download of the SageGlass Dynamic World app allows a smartphone user to tint a window to up to 60 percent. Settings can also be controlled by wall switches or a built-in automation system. The latter can place SageGlass on autopilot for the day.
Electrochromic glass consists of five micro-thin layers of ceramic material that, with the application of electricity, absorb light ions. The greater the amount of voltage, the darker with glass becomes. Electricity use is minimal: Saint-Gobain notes that SageGlass requires less energy to light 1,000 square feet than a 60-watt bulb, and can cut overall power usage by about 20 percent annually. This also helps a home meet LEED specifications.
That's a big point for glass manufacturers. The International Window Film Association estimates that up to one-third of energy costs stem from heat and cool air lost due to inefficient windows. That's where products such as Andersen's High-Performance Low-E4 SmartSun glass come in. The manufacturer states the product is 49 percent more energy efficient in winter and up to 70 percent more energy efficient in summer than conventional dual-pane glass, and prevents up to 95 percent of ultraviolet rays from entering a home. This places it in the same category as tinted glass in terms of light management, but maintains the aesthetics of clear windows.
Even vinyl window makers are getting into the act. Alside's New Construction Vinyl Window Collections combine low-E glass with a u-channel warm-edge spacer system to create a thermal barrier that helps them meet Energy Star requirements in Northern, North Central, South Central and Southern climate zones. Both series carry heat loss U-factor ratings of 0.23 to 0.5, and solar heat gain coefficient (SHGC) ratings of 0.2 to 0.64.
Doors: Added Resilience
Like windows, doors can be an overlooked green product. Their contribution to sustainability may seem a bit more obvious, however, due to the fact most exterior and nearly all interior doors are made of Mother Nature-originated wood.
Take Jeld-Wen's line of EpicVue windows and doors, which offer a double dose of green. The products combine Energy Star-rated glass with customized, parasite-resistant wood to create an enviro-friendly product that will remain in use for years. The door and window frames are made of natural pine AuraLast, Jeld-Wen's "Worry-Free Wood." During manufacturing, AuraLast generates 96 percent fewer volatile organic compounds (VOCs) than other wood. The manufacturing process also uses a solvent-free, water-based solution to help preserve the wood's beauty, and protect it from termites, wood rot and water saturation.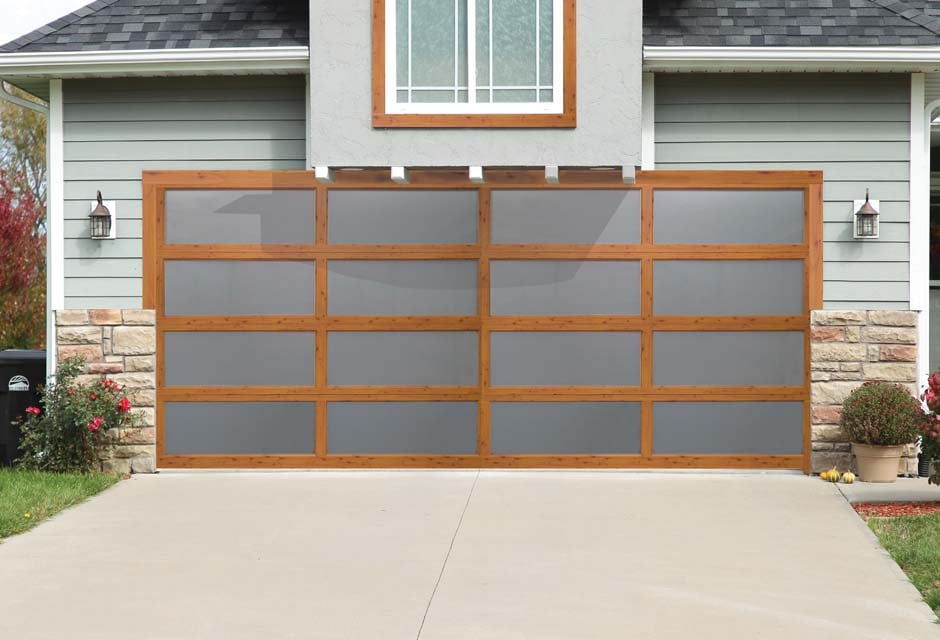 The Thermacore 490 Series of insulated aluminum garage doors from Overhead Door keeps environmental control stable and homes IECC compliant. Image credit: Overhead Door
EpicVue also keeps thing simple when it comes to design. The glass door and window panes are ultra-flat and extend as far as possible to the edge of the frame, allowing maximum views and abundant natural lighting. Their composition includes insulating argon gas to help lower energy costs and control interior temperatures, and an ultraviolet blocker to reduce UV radiation in the home.
It's not only wood that's well into the green game. Western Windows' Series 7000 line of aluminum multi-slide, sliding glass and bi-fold doors have earned Energy Star status, thanks to a series of energy and structural design improvements. These include across-the-board low U-value ratings as low as 0.19 when using triple-pane glass, design pressure (DP) ratings above 50, and low-E coated glass from Cardinal Glass Industries, and hurricane impact certification. A signature aluminum extrusion design utilizing proprietary Insulbar technology handles strength and performance needs.
And, knowing that not all doors are the ones near the doorbell or the bedroom, Overhead Door specializes in something larger: the one for the garage. The Thermacore 490 Series is Overhead's standard in insulated residential garage doors. It features an R-value of 17.5—making it the most thermally efficient door in the collection. The door is also built to last, with two layers of corrosion-resistant steel, and it meets IECC requirements for U-factor and air infiltration.
Accessories: Sustainable Sidekicks
Doors and windows have a lot of accessory items that make everything look and perform better. These "sidekicks" can make up for shortcomings in the original product, or emphasize a point other people may have overlooked.
Take the previously mentioned garage door. Thermal efficiency isn't all that efficient if the door can't be easily opened or closed. LiftMaster's Elite Series of openers use Wi-Fi-based MyQ technology, which enables the opening, closure or status check of a garage door via a smartphone or tablet. Door closure may also be set on a timer, preventing the chance of leaving it up after the owner leaves the house or goes to bed.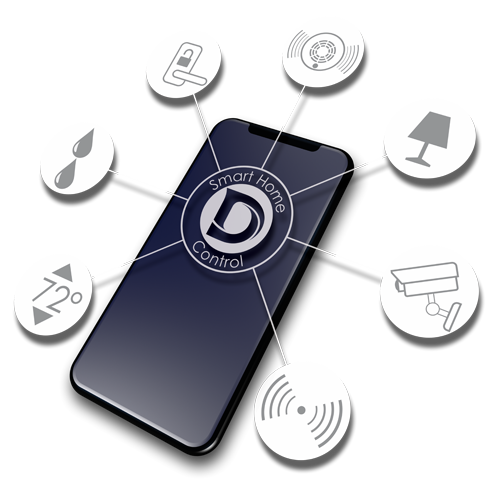 Delaney Hardware's new smart lock app can remotely open or close a door, and do much, much more.
Not to be left out, the conventional door also has an opening and closing aide. Delaney Hardware's upcoming Smart Lock and its app give users the ability to lock or unlock a door from anywhere using a smartphone or tablet. The lock can also take photos or video, enable a two-way conversation, control lights, act as a heat, smoke and water leak detector, function as a thermostat, and integrate with Amazon Alexa. The product is scheduled to hit the market this summer.
For those times when there's a need to go old school and actually open a door by hand, Kwikset offers piece of mind. The company's line of Microban-coated door hardware inhibits bacterial growth on some of the dirtiest places in the house: the knobs, handles and locks. Kwikset reports that Microban products are 99.9 percent cleaner than untreated surfaces, and the coating does not contain health hazards such as triclosan or triclocarban. And because the silver-based antimicrobial coating is incorporated into the finish during the manufacturing process and lasts for the lifetime of the hardware finish, the need for environmentally unfriendly items such as disinfectants or antibacterial soaps is theoretically zero.
Homeowners can get healthier enjoyment out of their windows with the Velux Integra control system. The Wi-Fi enabled home automation unit can be set to open windows for up to 15 minutes to ventilate stale air, monitor CO2 and humidity levels, control home temperature, and close windows in response to weather reports. Blinds, awnings and shutters can also activate in response to cold or heat. Integra integrates with Apple HomeKit, and also be controlled via smart speaker technology.