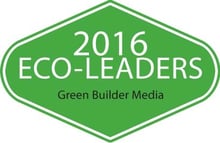 There's no more denying that climate change is happening, and its impact is hitting every corner of the globe. Just turn on the news, where you're likely to see the devastating effects of extreme weather such as wildfires, flooding and drought.
Greenhouse gasses (GHG) such as carbon dioxide (CO2) are major contributors to climate change. Unfortunately, we're largely to blame for releasing massive amounts of these gasses into the atmosphere by burning fossil fuels, deforestation, and many industrial and agricultural processes.
The construction industry is stepping up to the plate to do its part in reducing climate change, and this year's Eco-Leaders are leading the way. We've selected 11 companies that provide exceptional examples of creative solutions that help limit a company's environmental impact.
Making a Real Impact
This year's Eco-Leaders are inventing new ways to manufacture products using renewable energy like steam and solar; taking net-zero a step further by designing homes that also are net-zero for water and waste; reducing waste by finding new applications for it that benefit other industries; sourcing renewable energy from local solar farms; and creating products that use energy more efficiently—just to name a few methods.
Even more importantly, they are driving innovation by encouraging employees to get involved. Many Eco-Leaders hold competitions or encourage employee input on new processes that use less energy or create more efficient processes. Many also are spreading new knowledge around the world, giving back to their communities and encouraging global adoption of sustainable principles.
It's no longer enough to just embrace a sustainable method or two. To make a real impact, a company must change its entire culture to prioritize reducing its impact on the environment. This goes beyond just recycling or composting in the company breakroom. It means getting every employee on board and consistently creating new and healthier ways to manufacture products that are sustainable during their entire lifetime—from source to end-of-life.
GHG emissions are on the rise, and climate change is more threatening than ever. But with the help of innovative companies such as our 2016 Eco-Leaders working to develop more sustainable processes, we can all help to slow—or even reverse—this problem.
—Jessica Porter, Managing Editor