Free Download: Get Severe Weather Protection From Closed-Cell Spray Foam Insulation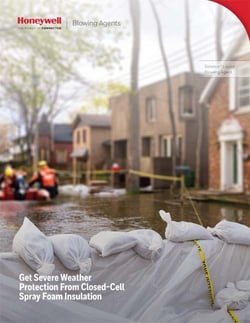 This new resource from Honeywell provides valuable insight about how closed-cell spray foam insulation (ccSPF) can increase building resiliency, whether it's new construction or a retrofit/rebuilding. You'll see how ccSPF:
Is the right insulation choice for hurricane and severe weather zones
Carries the U.S. Federal Emergency Management Agency's (FEMA) highest acceptability rating as a flood damage-resistant insulation material
Provides exceptional wind uplift resistance for roofs
Increases rigidity and racking strength in walls
Benefits from Honeywell's Solstice® Liquid Blowing Agent (LBA). This next-generation, nonflammable foam blowing agent technology is being widely used in ccSPF systems, delivering superior insulation and environmental performance
Fill out the form on this page to access your free download.