The Smart Guide to Chilling Out
When searching for an energy-efficient model, the Energy Star rating is a good place to start. Just make sure you're comparing apples to apples.
In the U.S. alone, 126 million refrigerators and 38 million freezers operate 24 hours a day, consuming a combined total of nearly 200 billion kWh of electricity each year. Overall, refrigeration accounts for 8 percent of residential energy use.
After an all-time low in the late 1980s, refrigerator efficiency has been steadily improving. A suite of strategies—a larger casing for insulation, higher-performing insulation, more-efficient (optional) compressors and heat exchangers, "smart" controls that allow a user to individually control compartments and LED lighting—have transformed these energy pigs into lean machines.
In September of this year, upgraded energy efficiency standards (set by the U.S. Department of Energy in 2011) will kick in. The DOE estimates these new standards will result in a 30-year savings of 4.84 quads of energy (and 344 million metric tons of carbon), and an economic savings of $36 billion. Energy Star refrigerators will have to be 10 percent more efficient than their uncertified counterparts. In addition, the program is awarding a "connected allowance" to units that are "smart-grid ready" or that give users access to energy usage data and allow them to change settings remotely.
While this is good news, other factors come in to play. The number of households has increased, and along with it, the total number of units up and running. In addition, more households than ever (20 percent according to DOE estimates) have more than one refrigerator. Conventional refrigerator/freezers aren't getting any smaller, either. The average American fridge measures about 17.5 cubic feet.
Here are a few rules of thumb to keep in mind when scouting for the most efficient models:
Units with top freezers are more efficient than side-by-side or the popular "French door" models.
Through-the-door ice makers and other bells and whistles reduce energy efficiency.
Refrigerators tend to get more efficient as they get larger, so several small units are likely less energy efficient than one large one.
Different standards are set for different fridge/freezer configurations. Consequently, an Energy Star side-by-side model might use more energy than a non-Energy Star top-freezer model of similar size. A better indicator is the estimated annual usage in kilowatt-hours.
Models manufactured before January 2014 can still sport Energy Star labels, even if they no longer qualify under the new, more stringent standards.
---
Decoding the New Energy Guide Label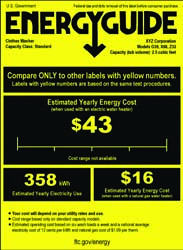 Upgraded standards for refrigerators' energy efficiency, set by the Department of Energy in 2011, will kick in later this year. The DOE changed the way annual usage is determined, which means the same model scrutinized under the new guidelines might yield different, and in some cases, higher values. This is because the new standards use a higher electricity rate ($0.12/kWh versus $0.11/kWh) and a figure called the Adjusted Volume (AV), which takes into account the higher energy usage required by a unit's freezer compartment. This is calculated by multiplying the freezer volume by 1.63 and adding it to the refrigerator volume (for freezer-only units, the total volume is multiplied by 1.73). Until every manufacturer has updated its labels, comparing models could get a little confusing; however, the new Energy Guide stickers should more accurately reflect an appliance's energy usage and cost of operation.