Enter to win two tickets to the Sustainability Symposium 2019!
The Sustainability Symposium 2019 is right around the corner (February 18 at the lovely Artemus W. Ham Concert Hall at UNLV), and we're bursting with excitement for what promises to be an extraordinary event!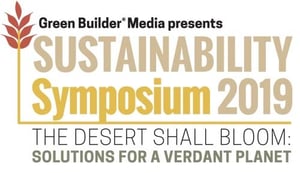 Don't miss this unique opportunity to participate in the sustainability sector's most fascinating event of the year, with luminary presenters including:
Welcome video by Jeff Bridges, Academy-Award winning actor and climate activist (yes, 'The Dude'!)
General Wesley Clark (ret.), four-star general, former Army Chief of Staff, Presidential advisor, and fervent climate action advocate
Bill Walton, NBA All-Star icon and passionate sustainability enthusiast
Ron Jones, Founder/President Green Builder Media and industry provocateur
Susan Kucera, award-winning Director, Cinematographer, and Producer of eco-films including "Living in the Future's Past" (co-produced with Jeff Bridges)
Gwen Migita, Chief Sustainability Officer, Caesars Entertainment
Andrew Beebe, pioneering Venture Capitalist with Obvious Ventures working on robotics and automation solutions to address labor issues in the building industry
Kim Shanahan, Executive Director, Santa Fe Area HBA and national water expert tackling our nation's water challenges
This inspired event will enable you to learn from global leaders about vital sustainability trends, technologies, and strategies; glean ideas for your company about how to simultaneously increase your sustainability and profitability; and network with like-minded professionals to explore the most important topics of our time.