"SHARCs" and "Piranhas" eat heat from raw sewage and return it for use in buildings.
THEY MAY SOUND scary, but for the environmentally conscious and owners of multifamily buildings, International Wastewater Systems' heat-seeking SHARCs and Piranhas are harbingers of a new energy source for buildings. These waste to energy products can conduct simple and direct heat exchange from untreated wastewater to provide energy-saving, cost-effective solutions for heating, cooling and hot water.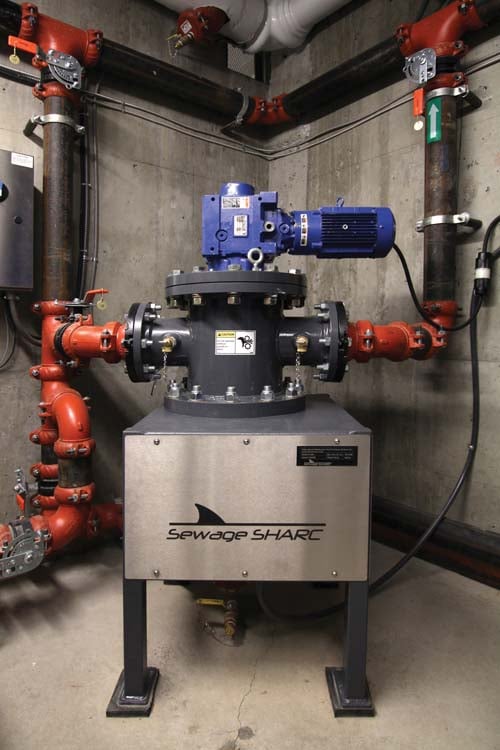 The SHARC system includes the Sewage SHARC filter and heat exchanger, along with DDC controls. An in-line sewage macerator is optional.
When you consider that, according to the Department of Energy, 400 billion kW of hot water goes down the drain annually in the United States, this represents an important tech innovation that multifamily builders should consider using.
"After the Paris climate talks mandated carbon reduction, my personal thought was: 'Why do we throw it all away?'" says IWS company founder Lynn Mueller, referring to the estimated 25 to 30 percent of heat that is carried by water into sewers daily around the world. "We can recover this energy that's being thrown away. Once a heated water cycle starts, we can use the water, then we capture the heat before it goes into the sewer […] and then do it over and over. It is counted as part of your base load, because the amount of sewage is constant in the world."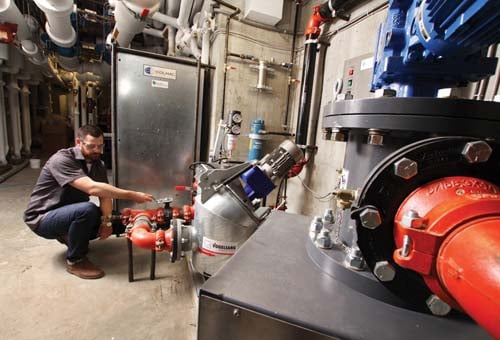 The Sewage SHARC from International Wastewater Systems processes raw sewage in preparation for recovering its heat energy. The system is fully sealed and odor-free.
The Nuts and Bolts
Here's how the system works: Wastewater maintains a fairly constant temperature as it travels through sewers to the treatment plant—typically about 60°F. In a sewage heat recovery system, a heat pump is used to capture the warmth of wastewater and transfer it to the clean water stream that enters buildings. It operates as a closed-loop system, meaning that the dirty water never touches the clean water. It takes a lot less energy to heat 60°F water than to heat cold water. And in the summer, buildings with sewage heat recovery systems can reverse their heat pumps and use the system to dissipate excess building heat.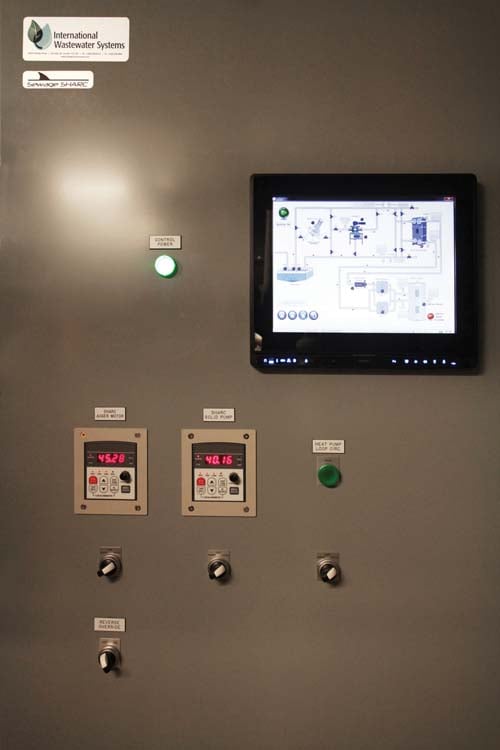 DDC system controls include a touch screen interface, data logging and remote monitoring capability.
The Piranha is designed for smaller buildings, such as multifamily residences and hospitals, and the SHARC is sized for commercial buildings.
IWS is presently designing systems that will be installed in the United States and Canada as well as the UK. The company recently completed several installations, which provide the buildings' heating and cooling from either the municipal or the building's sewage waste water. The company recently installed a system in a 172-unit condominium complex near the University of British Columbia. It provides hot water for all of the units at about 550 percent efficiency, saving the residents about 70 percent on their hot water heating bills. In addition, there is an estimated 100 ton per year emissions reduction.
Market Outlook
Mueller says there is a two- to five-year payback for the Piranha system for multifamily building owners. "The cost is based on the size of the building, but, for example, if you have 50 units, you would need one Piranha at about $60,000, which would make about 4,000 gallons of heated water a day," he says. "It's not custom equipment; it comes as a package and is virtually maintenance-free."
IWS is now developing a prototype in Europe for single-family homes. "It won't be on the market for some time, because usually the per-household water use is about 900-1,000 gallons a year, so the payback would be longer. But we are working with boiler manufacturers on ideas," Mueller explains.
He points to HRV and ERV adoption as an example of how wastewater heat extraction will probably follow: "HRVs were a pain in the rear when they first came out. Now they are code, and you can't build without them. More energy can be recovered from water than air, and for this reason we think our [type of system] will be a code item soon one day." A few forward-thinking companies, including Nexus eWater, are counting on this, and have already developed waste heat recovery technologies for the residential market.
"The future for the environment, for the world, is to do things differently," Mueller says. "Recycling waste water will be key, and we want to be a part of it."
Watch the system in action here