The company is launching an educational initiative to make sure panels are installed properly, and distributing product through Home Depot.
For homeowners considering going solar, evaluating installer options can be a daunting task as the industry works to define quality benchmarks and regulations. To help advance consumer education and set the gold standard, Vivint Solar, Inc. (NYSE: VSLR), a leading full-service residential solar provider, released a behind-the-scenes look at its rigorous 86-point installation process, giving would-be buyers a complete understanding of what to look for when selecting an installer and pitfalls to avoid.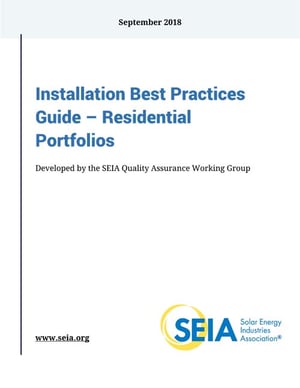 "Solar is new territory for a lot of homeowners, and while everyone loves the thought of saving money through a solar-powered home, installations are very complex and can have serious consequences when done incorrectly," said Vivint Solar CEO David Bywater. "Vivint Solar is deeply committed to leading the residential solar industry when it comes to safety, security, and peace of mind for homeowners who are investing in a clean energy system they expect to last 20 to 30 years. We have installed solar on nearly 150,000 homes, and with quality as a top priority, are happy to share our knowledge with others to help set standards as the industry matures."
As a hallmark of its quality assurances, Vivint Solar's 86-point process is the most rigorous in the industry and ensures safe, secure solar installations that work seamlessly with the home. Through educational videos and a checklist, homeowners will learn about key installation steps, including structural mounts, overcurrent protection, wiring and labeling, grounding and bonding, system monitoring and more. An incorrect or sub-standard installation can lead to many costly mistakes, from leaky roofs, to weight-bearing issues, wiring misfires, underperforming systems and potential structural damage.
Vivint Solar's quality focus—which has the company often exceeding code requirements for solar panel installations in the 22 states in which it operates—is helping set the tone for the industry-at-large. Recently, the Solar Energy Industries Association (SEIA), the national trade association of the U.S. solar energy industry, turned to Vivint Solar when it was developing industry best practices. The SEIA Quality Assurance Working Group incorporated the company's guidelines in its residential Installation Best Practices Guide that was released earlier this year. In recognition of its track record of quality, Vivint Solar also recently received the 2019 Quality Solar Installer designation from the New York State Energy Research & Development (NYSERDA).
To learn more about Vivint Solar and its approach to installation quality, visit www.vivintsolar.com.