The RIKEN Center for Sustainable Resource Science in Japan has found that torrefied biomass retained more water, an important quality for good soil.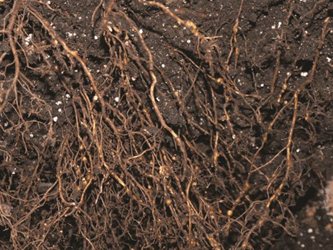 In the study, the researchers used soil from Botswana, an arid region in Africa. When biomass was introduced to the poor soil, water retention was increased and the plants grown had thicker stems, longer roots, and weighed more than those grown in untreated soil.
From Riken's website, the process is outlined:
In order to characterize the biological properties of soil treated with biochar, the team incorporated torrefied plant residual biomass from the biodiesel crop Jatropha curcas into aridisol, a type of soil found in arid regions such as Botswana, and compared several soil properties with samples that had not been treated.
Explained team leader Jun Kikuchi, "Jatropha is a potential biomass resource for dryland African landscapes, but the poor climate and soil conditions have limited its production. Our study shows that treating the poor soil with torrefied biomass improves a variety of factors that ultimately lead to greater plant growth."
For more on this development in soil fertilization, see the full story from Riken.