Too silent for pedestrians, but what bell, whistle, hoot or groan should an EV make?
The problem, say transportation officials, is that human beings aren't programmed to look both ways for silent, fast moving wheeled projectiles.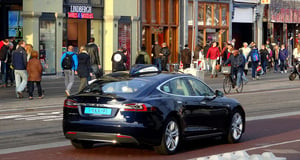 So as of July 2019, all EU electric vehicles will be required to make some kind of noise.
As reported by Futurism.com, here's why:
"The visually-impaired and partially-sighted often rely on some kind of sound for spatial awareness. The numbers don't lie:
40%: How much more likely pedestrians were 40 to be hit by a hybrid or electric car than a car with a combustion engine, according to a recent study by the UK-based Guide Dogs for the Blind Association.
74%: That's how much closer a group of subjects in a University of California, Riverside study needed to be to hear an electric car over a combustion engine. Those seconds could mean the difference between an accident or moving out of the way unscathed.
And car manufacturers are already on the case, designing special beeps and chirps for their upcoming lines of EVs to warn pedestrians. This all sounds (sorry) well and good, but it ignores a massive problem: There's no one, universal sound an electric car makes. You know what a car sounds like when it's coming—but do you know what an electric car sounds like when it's coming? If all of these car manufacturers are making various beeps and whirs to prevent accidents, are we expected to know that these sounds are electric cars?
Nobody argues that EVs need to produce noise, when traveling at low speeds. The National Highway Traffic Safety Administration under the Obama administration, calls for car makers to require all hybrid cars and EVs to produce noise when travelling under 19 MPH. Somehow, this new rule keeps getting pushed back (one theory: car industry lobbyists working to advocate for companies who don't want to spend money on mandatory retrofits for their cars at their expense)."
One has to wonder if there's not a better way to alert pedestrians to the imminent arrival of an EV than to add more noise to noisy intersections.One long-term (if costly) solution might be to engineer crossing guard systems, much the same as train tracks. It seems like with the imminent arrival of autonomous vehicles, combined with silent electric drives, the need for a solution becomes even more pressing.Chock up another unintended cost and consequence of technological change—as new technology encounters the imperfect science of human behavior.