Solar System With Batteries Provides Emergency Power During Outage
This Maine family created a resilient home with a combination of solar power, battery storage, and energy efficiency.
When a windstorm last fall knocked down trees and caused 500,000 people in Maine to lose power, Eric and Alison Rector knew that their home had emergency power. Although neighboring farmhouses were without electricity for six days, the Rectors enjoyed many of their modern luxuries. Their 1,100 square foot high-performance home uses a dynamic combination of energy efficiency and solar energy with battery backup.
Maine has one of the least reliable electric grids in the U.S. Multiple day power outages are relatively common after a severe storm, and the state ranks #49 in grid reliability, according to the Department of Energy. Many rural properties with wells are also without running water during power outages because pumps needs electricity to operate. These factors helped motivate the Rectors to find solutions to make their household more resilient.
Hybrid Solar System Provides Emergency Power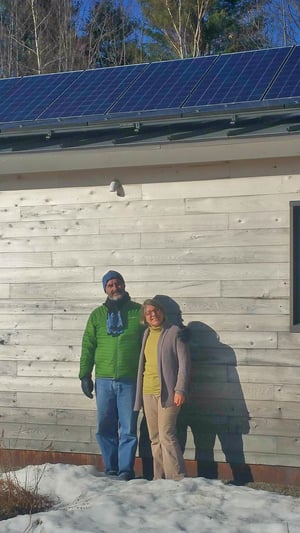 The Rector's 6-kilowatt solar PV array provided backup electricity throughout the record-breaking outage last fall. "One 48-volt battery bank gives us running hot and cold water, heat, ventilation, lights, and power for some appliances," says Eric. "If our solar system didn't have batteries, we would be stuck with no power during grid outages despite all our solar panels."
The solar panel system was designed and installed by Sundog Solar and originally contained just 3-kilowatts of solar panels and the battery bank. Eric and Alison later upgraded the system and added 3 more kilowatts of generation capacity.
The Rector house was built by GOLogic to the Passive House Standard, a stringent German certification for energy efficiency, resulting in homes that use 80% less energy for heating and cooling than a code-minimum house. Because the solar was producing more electricity than they were consuming, Eric and Alison purchased a 2017 Chevy Volt to utilize the surplus. They can now drive to and from town with solar energy.
Eric has been very satisfied with the solar system's inverter/charger because of the peace of mind that it offers. "I call the Conext XW 6048 'the magic box' because it seamlessly transitions between being on grid and off grid," says Eric. "The way Sundog Solar designed the system, the 'magic box' keeps the battery bank full at all times when there is grid power. During outages, there is no need to switch anything manually. All our critical systems stay powered, and the solar system charges the batteries until the grid power returns."
High-efficiency Home Promotes Resiliency
The Rector home is located in Monroe, Maine and has a southern orientation to maximize passive solar gains in the heating season. The house contains LED lights, an induction stove, lots of windows for natural daylighting, and triple-pane windows and doors. Rigid foam and blown-in cellulose insulation, meticulous air sealing, and the Zehnder heat recovery ventilation system enable the home to retain heat during long Maine winters. Despite the cold climate, the Rectors used less than 1,000 kWh of energy to heat their home the previous winter.
Virtually Airtight Homes Need Ventilation
The Rector home was air sealed to prevent drafts, promote comfort, and save energy. Although this is great for conserving power, an effective ventilation strategy is essential for ensuring high indoor air quality and exhausting excess humidity and pollutants. Otherwise, contaminants could get stuck in the home and excess moisture could cause mold growth, degrading indoor air quality.
Their Zehnder heat recovery ventilation system (HRV) continuously supplies a stream of fresh, filtered air to the living room, office, and bedroom. Stale, contaminated air is exhausted from the kitchen and bathroom.
Heat from the exhaust air stream is transferred to the intake air, conserving energy. Zehnder HRVs are the most energy efficient on the market, and some models are certified by the Passive House Institute.
The home ventilation system keeps the air in the home fresh throughout the entire year. As a cooking enthusiast, Eric also appreciates how effectively the Zehnder ventilator removes cooking odors and fumes from the kitchen.
Thorough planning has paid off for the Rectors. They have significantly reduced their carbon footprint and can power their car with solar electricity. An ultra energy efficient home and one battery bank provides relief from the challenges of an unreliable electric grid.
"We know that on this road, the power goes off monthly, perhaps for just an hour or so," explains Eric. "It used to be that if we had any high winds or storms, the electricity would go out. In the 1998 ice storm [when the Rectors lived in a neighboring house], the power went out for 11 days!"