Smart plus Solar Products to Watch
The universe of 'smart' products that enhance the performance of green energy keeps getting longer. Here are some of the brands leading in this new frontier.
Adara Residential Battery System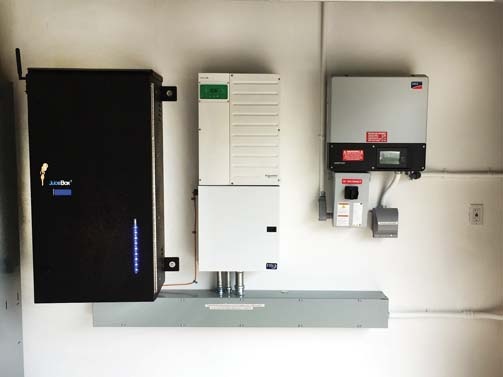 Adara, a manufacturer of commercial battery storage systems, just introduced a powerful option for solar PV homes. The company's JuiceBox system is an 8.6-kWh lithium-ion energy storage, with a continuous power rating of 5 kW, and 172 amp hours of storage capacity. The battery can charge quickly up to 80 amps. To optimize battery lifespan, the system incorporates a smart charging system. It constantly monitors the state of the battery, the PV output and building load from the inverter. It then determines the mode of operation, based on customer bill rates and other priorities. This balances the rate of charge and discharge, operating temperature, depth of discharge and number of cycles.
Neil Maguire, CEO of Adara, notes that Tesla's Powerwall 2 is not yet in the field, whereas the JuiceBox is ready to ship. "Another main technical performance characteristic is the switch-over time when the grid goes down," he adds. "Our system is eight milliseconds, so all devices in the house stay booted up. The Tesla and Sonnen systems go through a two-second shutdown, so the house and all appliances go off, then reboot."
Adara expects to launch a new product with 20 kWh capacity early in 2017.
---
Enphase D/C to A/C Microinverter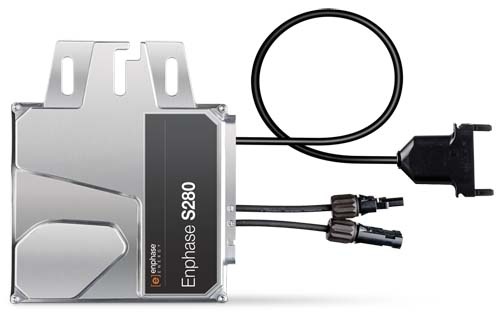 Enphase takes a smart approach to product design. Unlike Samsung's troubled SmartThings line, for example, many Enphase gadgets produce their own power through kinetic or solar energy. This not only avoids hassles for homeowners, it keeps battery waste out of landfills.
So it's no surprise that Enphase offers clever solar innovations. The compact S280 Microinverter, for example, retails for about $150. It's a plug-and-play option that boosts solar panel efficiency by converting power from D/C to A/C at each module. Advocates of this inverter approach say it boosts the overall cost per watt output, and makes installation and replacement easier. One drawbacks is that if you have a product failure, you need to climb on the roof to fix it, instead of accessing a centralized location.
The Enphase S280 is designed for high-powered, 60-cell modules. It integrates seamlessly with the Enphase Envoy-S communications gateway and Enphase Enlighten monitoring and analysis software. In other words, it can be updated remotely as needed. It also works with most battery storage systems.
---
smartflower Self-Contained Solar Power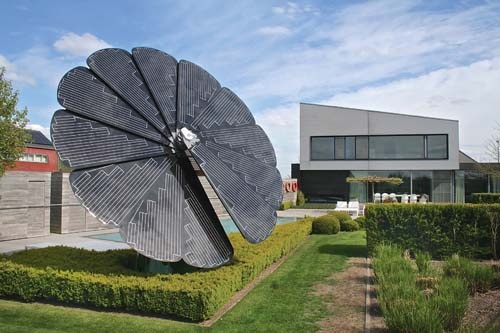 Smartflower had a successful launch in Europe, and will be available in the U.S. in the first quarter of 2017. This cleverly designed unit automatically fans out its solar petals at sunrise to face the sun, then follows it at a 90-degree angle all day, using GPS-based dual-axis tracking (not unlike a flower). It then closes up as the sun sets.
This close tracking allows smartflower to produce up to 40 percent more output than static solar arrays, making it the equivalent of a 4- to 5-kW rooftop system. The efficiency of smartflower improves even more, because the panels are self-cleaning. Every time they unfurl or close, tiny brushes on the back of each panel brush dust, dirt and snow off the one underneath it. Each "petal" is also rear-ventilated, so hot air won't accumulate within the system. This keeps the petals cool enough to deliver up to 10 percent more output than other panels.
In winds higher than 40 mph, the petals automatically fold in and stow away, leaving a fully shuttered unit that will withstand hurricane level conditions. Lastly, smartflower units with storage provide remote monitoring, allowing the owner to access by any smart device at any time of day a wealth of data about the unit's power generation and use.
http://www.smartflowersolar.com
---
SMA Inverters and Smart Controls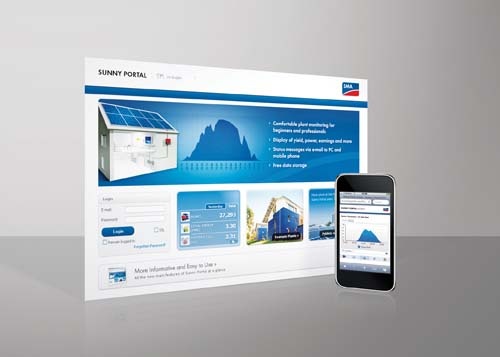 The SMA Smart Home is an energy-efficient solution for whole-house energy management that will result in net-zero independence from utilities. It also helps reduce peak power demand, thus eliminating potential demand charges for homeowners, depending on their utility rate structure. An SMA Smart Home can operate connected to the grid and off-grid.
Key components of the SMA Smart Home include a Sunny Boy storage battery inverter, a Sunny Boy PV inverter and a high-voltage battery. Together, these elements function as the "brain" of the system, ensuring simple and reliable operation.
A PV system, tied to a Sunny Boy-US PV inverter, will charge the high-voltage battery during the day so that it can be discharged in the evening, when electricity rates are often higher. The inverter constantly fine-tunes the flow of energy and information, to optimize how power is used in an intelligent home.
SMA's Sunny Portal (shown) allows for easy monitoring and management of the entire Smart Home system via web or smartphone. This scalable software not only manages data, but allows for quick diagnosis of any potential issues.
---
Echo and Alexa: The Perfect Couple?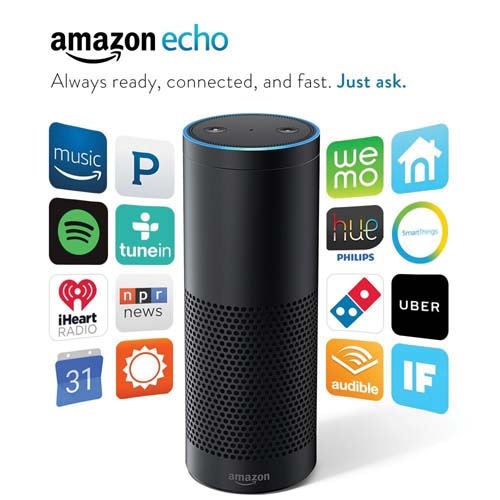 What makes Echo noteworthy in the world of Smart Plus Solar is that it takes voice commands to a new level. The unit has seven microphones and beamforming technology that allow it to distinguish human voices from across the room—even while music is playing. Those voices are then interpreted by Alexa programming.
Along with this listening ability, Echo also functions as an expertly tuned speaker that can fill any room with 360-degree immersive sound.
Today, there are tens of thousands of developers building Alexa skills, and over 4,000 Alexa skills now available to customers; they can play games, pay bills online or find music. But beyond these daily tasks, new skills will likely include energy management, including integration with smart meters.
Bob Shively, president of Enerdynamics, notes that voice commands with an integrated device such as Echo are likely to become the standard for controlling the intelligent home of the future. "Amazon's Alexa personal assistant," he notes, "accessed through the home Echo speaker, can already perform voice-activated functions such as adjusting thermostats and lighting levels, controlling switches and querying security systems to see whether a window is open."
Although there are no dedicated solar power management apps for Alexa at present, some are already in the works. And with phone control of the Echo already possible through the Roger app, Echo and its voice-linked abilities will continue into the arena of home energy saving. The Echo is on sale for just $139 retail at the time of this writing, and with the Amazon Echo Dot, you can add Alexa controls to multiple rooms.
---
SolarCity and Tesla: All In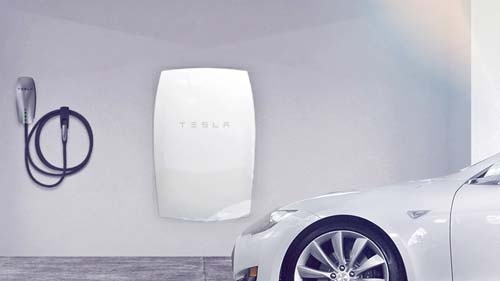 There's nothing shrinking about SolarCity's gamble on its future in the solar arena, as it completes a drama-laden merger with Tesla, the company owned by entrepreneur Elon Musk. From the looks of SolarCity's website, the mental merge with Tesla is already a done deal.
There's nothing coincidental about this match. The two companies will offer a full-circle approach to solar.
SolarCity has built a vast infrastructure for mainstreaming the concept of solar leasing. But as outright purchase of solar panels has become more affordable, and net metering has come under siege by utilities, the company's growth has slowed. The Tesla merger, however, could solve these challenges with three new additions to the SolarCity portfolio:
Building-integrated solar shingles. Musk seems convinced he can make this type of product a success where other brands have failed. His product is innovative. Roofs look "normal" from below, but act as solar cells from above—resolving consumer expectations about what a roof "should" look like.
Residential storage battery. Tesla's Powerwall 2, a 14-kW residential lithium-ion battery, is said to be launch-ready, offering viable off-grid storage for homeowners.
Electric vehicles. Tesla Motors vehicles, charged with solar power, will also recharge the Powerwall 2 when not in use. The new Model S is shown.