Pasha Stevedoring and Terminals L.P. and the Port of Los Angeles are launching the Green Omni Terminal Demonstration Project, a full-scale, real-time demonstration of zero and near-zero emission technologies at a working marine terminal.
When completed, this project will enable the marine terminal to generate all of its energy needs from renewables.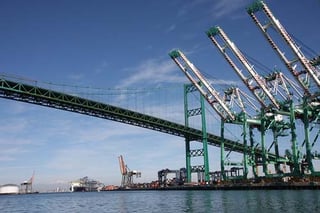 From the press release:
The comprehensive strategy is expected to reduce more than 3,200 tons per year of greenhouse gases and nearly 28 tons annually of diesel particulate matter, nitrogen oxides and other harmful emissions from operations at the nation's busiest container port. The clean air gains equate to taking 14,100 cars a day off the road in the South Coast Air Basin.
You can read the entire press release here.