As alternative energy prices drop, access to electricity becomes easier for the world's islands.
Alexander Creed of Ensia recently gave the world an opportunity to take a look at the island of Sumba.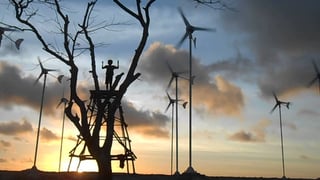 "Sumba is a largely rural, sparsely populated island, one of thousands in the archipelagic nation of Indonesia. Due to rugged, hilly terrain and scattered villages, only 25 percent of its inhabitants had access to electricity before 2010."
However, despite being small and poor (most residents of the island live in cinder block homes and cook with kerosene), Sumba stands apart - not just from Indonesia but from the world.
"[T]his island of around 650,000 people, accounting for just 0.2 percent of the country's population, is aiming to set an energy example for all of Indonesia, the world's fourth most populous country and Southeast Asia's largest economy. Through an initiative known as the Iconic Island Sumba project, international donors working with the local government plan to bring electricity to all of the island's residents using only renewable sources in the next 10 years."
However, Sumba is not the only island that is looking to improve their sustainbility. As Creed says:
"Sumba could follow the example of other small islands that are looking to renewable energy, including Samsø. In the U.S., the island state of Hawaii is aiming to produce all electricity by 2045 using only renewable sources. However, these islands differ from Sumba in important ways, including financial resources from the government and local citizens. The renewable energy push on Samsø was led by a few local citizens, and locals own many of the island's wind turbines. Everyone is involved in the decision-making processes, according to Kristensen. Hawaii has passed a law that mandates its renewable energy goal."
You can read the whole story here.