Tens of thousands of dams and waterways have the potential to serve as power generators.
Brett Walton of Circle of Blue reports on hydropower explansion in the U.S. through improvements to existing dams.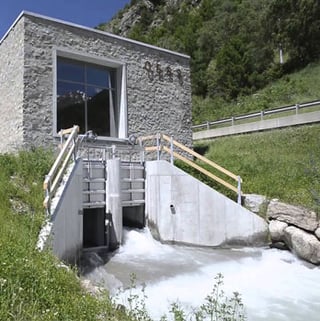 "Reviving hydropower does not mean recreating the hulking masses of concrete that defined mid-20th century power development. The prime spots are already plugged, and big new dams no longer fit the time (as witnessed by the Lake Oroville Dam) They are ecologically damaging, take a long time to build, and require a tremendous capital investment. The governor of Alaska, for instance, halted work in Juneof last year on the $5.7 billion, 600-megawatt Susitna-Watana hydropower project, because state finances crumbled when oil prices plunged. At 705 feet in height, Susitna-Watana would have been the tallest dam built in the United States since 1973, and it represented more than half of proposed new hydropower capacity in the United States from new dams.
The alternative model is to make better use of infrastructure already in the ground, a less expensive and more efficient use of capital and equipment that is more adaptable to the era. Fewer than three percent of the nation's roughly 87,000 dams produce power. There are many thousand more canals, pipes, and conduits that carry water to farms and cities and could spin a turbine. The country's generating capacity — the amount of potential energy from hydropower — has scarcely budged since 1990, the end of the dam-building era. After World War II, hydropower accounted for more than 40 percent of U.S. electricity generation. Its share is now down to six percent. A comprehensive Department of Energy study released in July charted a path for adding some 50 gigawatts of hydroelectric capacity and storage by 2050, an increase of one-third."
For the complete story, including the link to an interactive map of hydropower potential, click here.