At 26 ft. tall, the residential-scale device is expected to hit the French market at a price of about
£23,500 ($33,670).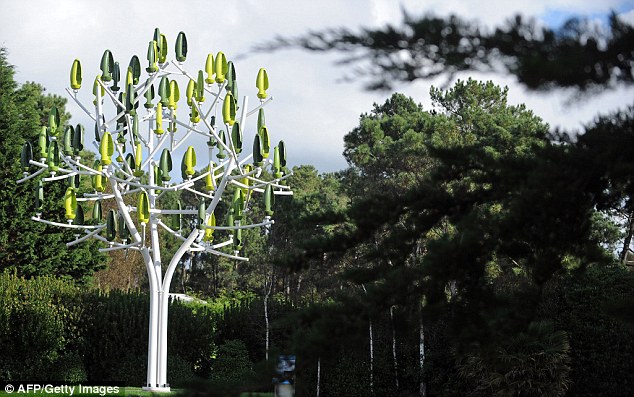 According to The Daily Mail, one of the trees is currently being installed in Paris, and the manufacturer, a company called New Wind, is optimistic about selling them throughout France:
"The 26-ft.(8 metre) trees are fitted with 63 aeroleaves. Each one uses tiny blades inside the 'leaves' and can generate electricity in wind speeds as low as 4.5mph (7km/h), and regardless of the wind's direction.
A light breeze is classified as having a wind speed of between 4 mph and 7 mph on the Beaufort Scale.
The company's founder, Jérôme Michaud-Larivière, hopes the trees can be used to exploit small air currents flowing along buildings and streets, and could eventually be installed in people's backgardens and urban centres.
The power output of the tree is 3.1 kilowatts a year, depending on the wind.
The trees are also silent, so sound pollution would not be an issue—a major improvement from past designs."