Pivot Energy recently announced that two urban community solar gardens have come online in Denver at S*Park, a mixed-use development in RiNO, and Stanley Marketplace, a community focused marketplace in Stapleton.
In addition to providing solar bill credits to tenants of both buildings, the rooftop solar arrays will deliver clean, renewable energy to additional neighborhood subscribers. With the completion of these projects, we have now developed 22.4 megawatts (MW) of community solar gardens across Colorado, with 6 MW serving the low-income community.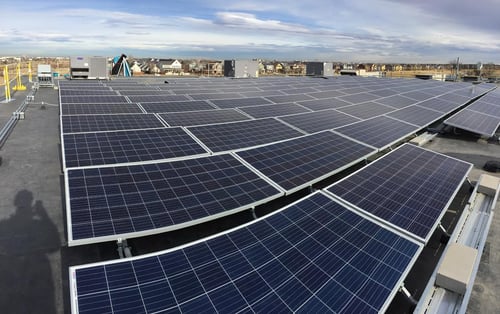 Pivot partnered with Westfield Development to bring these arrays online and increase the opportunity for local residents and business to access solar energy. These arrays make Denver a more sustainable city and increase choice and access for customers, regardless of their income level or what kind of building they call home, the opportunity to benefit from clean, renewable energy. We have now developed over 14 MW of community solar in the Denver area alone, which is enough to power 10,800 homes and generate bill savings for a wide variety of customers including local governments, low-income residents, and small businesses.
For background, Pivot Energy is a Denver-based solar energy company that is focused on helping accelerate the rapid transition taking place in the energy industry to a more decentralized and cleaner approach to power generation. We offer a distributed energy platform that includes a range of services and software aimed at serving the full commercial solar ecosystem, including retail customers, project developers, system operators, utilities, and financiers. We develop, finance, build, and manage community and commercial solar projects around the country and we operate on a triple bottom line basis, measuring success by the positive impact to people, planet, and profit.
Construction of the S*Park community solar project began in Fall 2018 with solar panels erected across multiple building rooftops and totaling 140 kW of power. Subscribers to the project include residents of the S*Park development, low-income residents of Metrowest Housing Solutions, Volunteers of America Colorado (VOA), and a handful of Denver area residents who don't live at S*Park. Known as 'Sustainability Park,' the mixed-use development was designed to maximize sustainability and foster community with unique features such as composting, trash valet services, electric vehicle charging stations, greenspace, private dog park, onsite vertical hydroponic gardens, and more. At Stanley Marketplace the solar panels have been erected on the building's rooftop and total 100 kW of power.
"Our ultimate goal of providing solar power access to our residents and tenants without passing on its cost was made possible by Pivot Energy, who provided the perfect solution to our project needs," noted Jonathan Alpert, Partner, Westfield Development.
Community solar refers to local solar facilities shared by multiple community subscribers who receive credits on their electricity bills for their share of the power produced. Colorado has emerged as one of the leading states in the country for community solar, and Pivot Energy is leading that development with over 22.4 MW of projects developed across Colorado, 6 MW of which is dedicated to low-income housing. We have constructed 18 projects located across the State on a diverse array of sites including land surrounding Denver International Airport, urban rooftops, the A-line train to the airport, farmland, and more. Subscribers include Jefferson County, Foothills Park and Recreation District, Stanley Marketplace, Spark Condos, and hundreds of low-income subscribers through Metrowest Housing Solutions and Volunteers of America.
"Volunteers of America Colorado is a human services organization with a strategic plan in place for the next 2 years that includes reducing our carbon footprint by at least 5%," noted Bret Bridgewater, VOA VP of Building Services and Safety. "During the initial strategy on how to accomplish this undertaking, we were contacted by Pivot Energy which was the gateway for Volunteers of America to not only save money to use toward our programs, but also a way to reduce our energy footprint. While we are sure there are many different companies offering similar programs, the experience we have had working with Pivot Energy has been impressive from our first interaction."