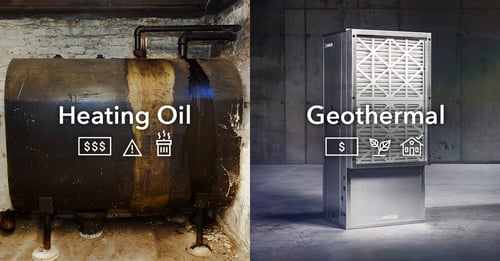 I have long worked with large home builders and developers in an effort to pique their interests in geothermal HVAC systems as a community solution. In my first book, Geothermal HVAC, Green Heating and Cooling published by McGraw-Hill in 2010, the image on p 116 (Figure 6-1) and shown below is of an unnamed Lennar executive considering geothermal solutions for some Central Florida developments.
I'm pleased to be able to share that Dandelion Energy appears to be coming close to making this a reality. Press Release Follows:
Dandelion Energy Raises $16MM Series A, Led by GV & Comcast Ventures
New York, NY, February 12, 2019 – Dandelion Energy, the leading home geothermal company, which offers homeowners a clean and cost effective heating and cooling solution, announced that it has completed its Series A funding of $16MM, bringing the company's total funding to $23MM. The round was co-led by GV (formerly Google Ventures) and Comcast Ventures, with participation from Lennar Corporation (NYSE: LEN and LENB), as well as prior investors NEA, Collaborative Fund, Ground Up, and Zhenfund, among others.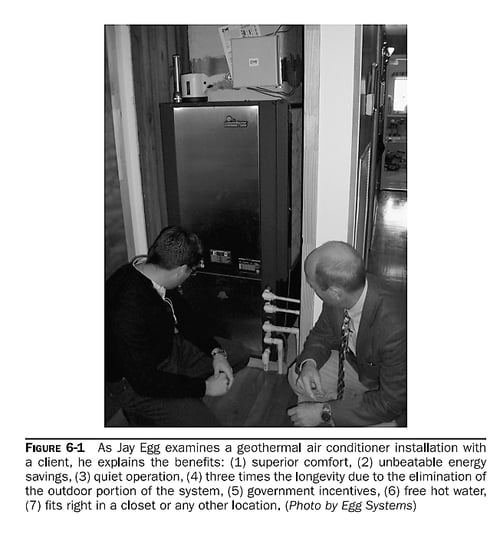 Dandelion Energy's mission is to modernize home heating and cooling by enabling the widespread adoption of geothermal energy. The Dandelion Energy team began working on this mission while at Google parent company Alphabet's X lab before launching as an independent company in New York City in May 2017. Dandelion Energy expects to use this round of funding to accelerate growth, invest in research and development, and expand its operations across New York State – opening new warehouses and growing its team.
In conjunction with the financing, Shaun Maguire, Partner at GV, and Sam Landman, Managing Director at Comcast Ventures will join Dandelion's board.
"In a short amount of time, Dandelion has already proven to be an effective and affordable alternative for home heating and cooling, leveraging best-in-class geothermal technology," said Shaun Maguire, partner at GV. "Driven by an exceptional leadership team, including CEO Kathy Hannun, Dandelion Energy is poised to have a meaningful impact on adoption of geothermal energy solutions among homeowners."
"The home heating and cooling industry has been constrained by lack of innovation and high-costs," said Sam Landman, managing director of Comcast Ventures. "The team at Dandelion and their modern approach to implementing geothermal technology is transforming the industry and giving consumers a convenient, safe, and cost-effective way to heat and cool their homes while reducing carbon emissions."
"We're incredibly excited to invest in Dandelion Energy," said Eric Feder, Managing General Partner for Lennar Ventures. "The possibility of incorporating geothermal heating & cooling systems in our new homes is something we've explored for years, but the math never made sense. Dandelion Energy is finally making geothermal affordable and we look forward to the possibility of start including it in the homes Lennar builds."
Today, millions of homeowners in the United States heat their homes with fossil fuels such as – natural gas, heating oil and propane. In the Northeast alone, over 7 million homes have either heating oil or propane based home heating systems. Apart from being inconvenient, expensive, and a potential safety hazard, heating fuels are primarily responsible for 11 percent of all carbon emissions related to the heating of homes and businesses in the United States.
By continuing to invest in heat pump and drilling technology, coupled with operational efficiency, Dandelion Energy has been able to address the biggest factor that has limited the growth of geothermal in United States – cost. The Dandelion Home Geothermal System is about half the cost of traditional geothermal installations, which means that for the first time geothermal heating and cooling systems are economically viable for millions of homeowners. In May 2018, Dandelion Energy launched its revolutionary Dandelion Air heat pump (the most cost effective / easiest to install solution on the market), and within 6 months of launch, Dandelion Energy became New York's largest residential geothermal installer by volume.
"In partnership with world-class investors including GV, Comcast Ventures, and Lennar Corporation, the nation's leading home builder, as well as with the continued support of our existing investors, we're eager to continue to advance our mission of enabling the widespread adoption of geothermal," said Kathy Hannun, Co-Founder & CEO of Dandelion Energy.
About Dandelion
Dandelion's mission is to enable the widespread adoption of geothermal. The company offers homeowners affordable geothermal heating & cooling systems as an alternative to gas, oil, propane or electric heating. Dandelion began at Google parent company Alphabet's X lab before launching as an independent company in New York City in May 2017. Dandelion now operates out of New York City and Upstate New York. To learn more, visit: www.dandelionenergy.com.